I didn't live in Florida in 2000 when the nation was focused on the presidential recount. I was one of many who found it simultaneously concerning and amusing. There was a photoshopped meme at the time that I still use in class.
Along with that one, I share this:
It's funny, but now that I live in Florida, I would really like to see my state not be the focal point once more when it comes to election miseries. Unfortunately, that's not the case.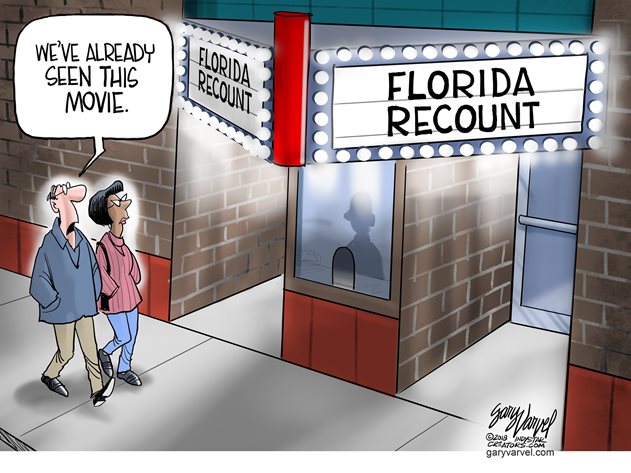 Of course, not all of Florida can be blamed for this. My county apparently knows how to count votes. Broward County? Well, not so much. And the supervisor there, Brenda Snipes, can credibly be accused of having what one might call a "slight" slant toward Democrat hopefuls.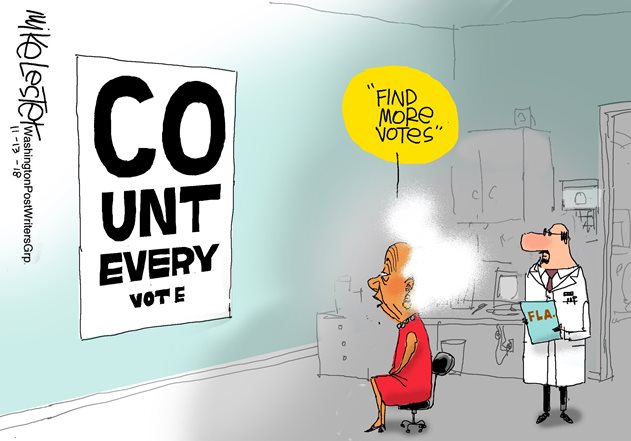 Oh, I believe in counting every vote—every legitimate vote. I hope I, and countless others, can be excused for wondering how legitimate this current recount really is.
Gov. Rick Scott, seeking to be the next senator, seemed to have a clear victory over incumbent Bill Nelson, but this recount has narrowed his lead from 50,000+ to less than 15,000. For the record, such a drastic change is unprecedented in recount history, leading to a strong charge of some kind of fraud being perpetrated. Knowing what I do about Democrat tactics, please allow me to be one of those who has, shall we say, grave suspicions about the integrity of this recount.
All that is not to say that Democrats haven't made gains nationally this time around. They now will control the House of Representatives. While not exactly an overall Blue Wave, to say this is negligible is to deny reality.
Are there any other optimistic signs?
What might this portend for 2020?
I'm being facetious, as I think cartoonist Ramirez is also. Yet I do believe that Republicans need to take seriously what this election means. Many suburban voters abandoned the party, allowing the House to fall to Democrats. Races that should have been won going away were extremely close. There is reason to believe a major factor is perception of the man who currently sits atop the Republican establishment.