I know that writing about tariffs doesn't sound all that appealing, but I wouldn't have to do this if President Trump hadn't decided to make them so central to his policy. After all, here's what he tweeted a couple of days ago:
Tariffs are the greatest! Either a country which has treated the United States unfairly on Trade negotiates a fair deal, or it gets hit with Tariffs. It's as simple as that – and everybody's talking! Remember, we are the "piggy bank" that's being robbed. All will be Great!
Are they really all that great for everyone?
I'll come back to that further down in this post, but first, a short history lesson.
Article One, Section Eight of the Constitution gives the Congress the authority to pass tariff laws, so they are constitutional. No argument there. However, it is Congress that has that authority. Why, then, can President Trump unilaterally impose tariffs? Sadly, it's because Congress passed some laws that he can use to assume that power.
Basically, that is Congress relinquishing its responsibility. Some in Congress are trying to change that, but the effort seems to be going nowhere. Apparently, Congress doesn't want that responsibility too much—tough decisions might lead to losing a re-election bid.
The first time a tariff became an issue was with the so-called Tariff of Abominations, which passed in 1828. The tariff sought to protect northern and western agricultural products from competition with foreign imports; however, the resulting tax on foreign goods would raise the cost of living in the South and would cut into the profits of New England's industrialists.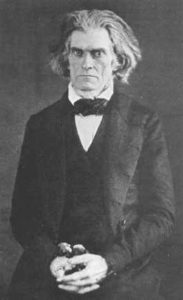 South Carolina, under the leadership of John C. Calhoun, declared that the tariff was unconstitutional because it was not primarily for raising revenue but for protection of certain segments of society. That led to the Nullification Controversy of 1832-33 when South Carolina simply said that the tariff wouldn't apply in that state.
Regardless of the merits of the objections to the tariff, it's pretty clear that no state can just decide that a federal law passed by Congress won't be carried out in the state. Challenging the law in the courts would be the way to go, or finding a compromise in legislation, but there is no basis for nullification. Eventually, a compromise bill was enacted that soothed ruffled feathers on both sides, but not without lingering animosity.
Let's see, who fired the first shots of the Civil War? Oh, yes, that would be South Carolina.
Tariffs later became a vehicle championed by the Republicans as a means to protect American products by making foreign goods more expensive. Democrats, in the late nineteenth and early twentieth centuries, were actually the party of free trade. The tariff was a big issue in the 1880s and 1890s, particularly. One political cartoon of the era made fun of the need to protect American industries that were fully capable of holding their own in the world:
But the one tariff bill that always strikes terror into the hearts of those who know history is the Smoot-Hawley Tariff Act of 1930, passed in the throes of the Great Depression.
This tariff increased protection to an all-time high in American history. The purported goal was to raise the price of foreign goods so high that Americans wouldn't want to buy them, would turn to American industry instead, which would then need to produce more, which would mean they would hire more workers, thereby ending the unemployment problem.
Voilà ! Depression ended! All will be well! It made a certain amount of logical sense. But that rationale left out one salient feature—a response from those nations who were the targets of the tariffs.
Other nations reacted to these tariffs by raising their own against American goods. After all, they didn't want their citizens buying American when they could buy homegrown products. Consequently, the overseas market closed to a lot of American industry and the opposite happened from what was promised: more Americans were thrown out of work.
While there may be a place for tariffs, one must be very careful that they don't boomerang and create new problems at home: higher costs, lower production, and greater unemployment.
Ever since Trump initiated his tariffs, a number of productive companies, along with certain types of farmers, have been hurt.
Because farmers, especially those who grow soybeans, are being affected, Trump came up with a solution that most conservatives and/or Republicans would have never agreed to (but they didn't have a vote because everything is coming straight out of the executive branch—something conservatives always legitimately criticized when Obama did it). What is the solution? A $12 billion bailout for those farmers.
Yes, it's the tried and untrue government subsidy solution made possible by taking more from the American taxpayers: taking from all (well, all who actually pay taxes, at least) to benefit a targeted group.
Some will say that Trump's approach is working because the EU is now in negotiations to reduce tariffs all around. Some are referencing a recent Wall Street Journal editorial as proof.
While it's true that the editorial expressed relief that we might be stepping back from the brink, it's instructive to read the entire editorial, where one finds this warning/caution:
The White House will crow that Europe blinked, but it's more accurate to say the two sides are stepping back from mutually assured economic destruction. The car tariffs would certainly have punished Germany, the locomotive of Europe's economy.

But Mr. Trump also had ample political and economic incentive to call a truce. The retaliatory tariffs from China, the EU, Mexico, Canada and Japan are beginning to hurt U.S. farmers and manufacturers.

Mr. Trump felt obliged this week to bail out U.S. farmers by providing up to $12 billion to buy surplus crops that can't find a foreign market. Harley-Davidson and other firms are moving plants abroad to avoid higher import costs and duck retaliatory tariffs. All of this in turn is beginning to have political consequences as more Republicans in Congress are finding their voice in favor of free markets.
The combination of a potential economic crisis followed by an electoral crisis undoubtedly entered into the reasoning for trying to bring the tariff war to an end.
By the way, it's not necessarily ended. These are only the beginnings of talks; we still have to wait and see how they develop.
I'm a free-trader at heart because I believe that protective tariffs put the government in charge of picking winners and creating losers, thereby messing up the market system. I also believe that American manufacturing and agriculture can compete with the world without tying themselves to the government, with all its attendant strings, and regardless of how unfair some other nations might treat our trade.
When did conservatives stop believing this?