I've been impressed by Nikki Haley for quite some time: first, as governor of South Carolina, and now as our UN ambassador. What I read about her today has only increased my appreciation for her as a spokesperson for mature conservatism.
Yesterday, she spoke to the High School Leadership Summit, a conference for conservative teenagers. In discussing what leadership means, she told them they had to take a more responsible, reasonable approach to those with whom they disagree. Her words:
Raise your hand if you've ever posted anything online to "own the libs." I know that it's fun and that it can feel good, but step back and think about what you're accomplishing when you do this. Are you persuading anyone? Who are you persuading?
She contrasted that in-your-face approach with real leadership; she called it the exact opposite, then explained how real leadership works:
Real leadership is about persuasion, it's about movement, it's about bringing people around to your point of view. Not by shouting them down, but by showing them how it is in their best interest to see things the way you do.
Think about it. Shouldn't that be the goal rather than feeling good that you just let someone really "have it"?
Haley demonstrated the Christian spirit beautifully. While reading about her comments, it reminded me of why I've been so drawn to Whittaker Chambers and Ronald Reagan.
Chambers wrote his masterpiece, Witness, as a plea to show people truth and get them to change their thinking. Yes, he condemned the system of communism that he once thought would change the world for the good. Yes, he called out some of the truly evil people involved in that system.
Yet there is a pathos to Witness that is its most appealing feature for me. Chambers doesn't hate those who are in error; he appeals to them to rethink. Even when testifying against Alger Hiss, he didn't want to divulge everything; he sought Hiss's repentance instead so that he might be saved from his sins and errors. Only when Hiss proved arrogant and stubborn did Chambers reluctantly come forward with all of his evidence.
When Reagan read Witness, for the first time he saw why communism had a certain appeal to those who embraced it. His response to it transformed from simply being "against" something to seeking to free people from its chains.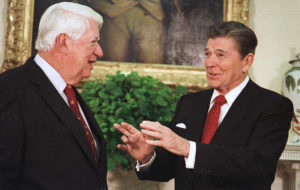 Reagan could speak forcefully against wrong ideas (mature conservatism doesn't mean pulling back from truth-telling) but he always reached out to those on the other side of the ideological divide. He sought to develop a relationship with House Speaker Tip O'Neill despite the latter's constant diatribes against Reagan.
He sent letters to every Soviet leader, wanting to explain to them why they misunderstood the US; he finally found one who would listen (although he might not have if Reagan hadn't taken a firm stand against Soviet aggression).
"Speaking the truth in love" is how it's described in the New Testament. Nikki Haley, Whittaker Chambers, and Ronald Reagan show us how that's done. I've been dismayed by the devolution of the conservatism I've always espoused. I hardly recognize what passes for conservatism in the past few years.
Those of you who call yourselves conservatives, I appeal to you to consider what I've written today. I think it's important for the future of genuine conservatism and for the future of our nation.