The deal Obama and the Democrats forged with Iran over its nuclear program was supposedly going to spare us from a major nuclear conflagration. I didn't believe it then, and I still don't believe it now. That deal was no better than the phony deals people have foisted on the gullible throughout history.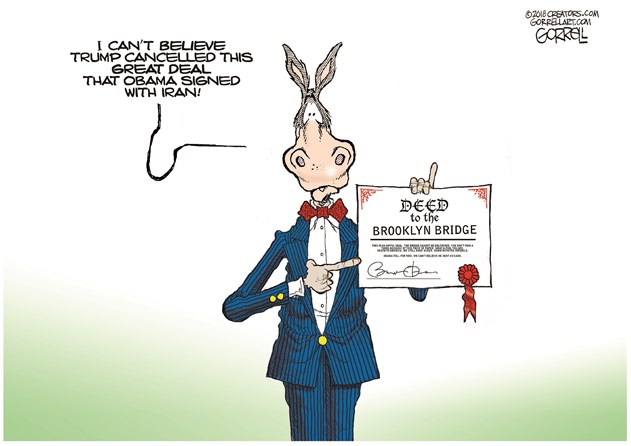 The Iran deal was only a ten-year moratorium (again supposedly) on developing nuclear material and allowed Iran itself to do its own inspection on whether it was keeping to the agreement.
Huh?
That's a long way from the Reagan approach called "trust but verify." In fact, it's downright foolish. How many people who still use their brains actually believe that Iran is keeping its word? Well, Obama and John Kerry are prime examples, in spite of how Israel's top-notch spy service tries to enlighten us.
Then there's the very nature of the deal. Whenever nations enter into these types of agreements, they're called treaties. The Merriam-Webster dictionary definition of a treaty is as follows:
An agreement or arrangement made by negotiation; a contract in writing between two or more political authorities (such as states or sovereigns) formally signed by representatives duly authorized and usually ratified by the lawmaking authority of the state.
There's a reason I highlighted that last portion of the definition. The Constitution of the United States (that document largely ignored by the previous administration) requires that agreements such as this Iran deal should be brought to the Senate for ratification. Obama chose not to go that route (which is called "constitutional") and simply declared it a "done deal."
He was always very good at just doing things whenever he wanted. Remember his "I've got a pen and a phone" comment? He's a little upset at the moment now that President Trump has pulled out of the deal.
I'm going to give Trump credit here for following through on this. I'm sure he was emboldened by the addition of John Bolton to his team, but his was the final decision, and it was the correct one.
One of the things he has done well has been the reversal of a number of Obama's executive orders.
We need to face reality, though. Pulling out of a phony deal is one thing; finding a way to stop Iran's march toward nuclear proliferation and carrying out its evil desire to wipe Israel off the face of the Middle East map is another matter. Much hard work remains.
Immediately after this welcome decision to call Iran out for its deviousness, there was other good news as the Trump administration secured the release of three Americans who had been imprisoned by the unstable North Korean government.
To Trump's credit, he greeted those three in person at 3 a.m., which showed how important he considered the release to be.
Yet, even when something good happens, he has a tendency to detract from the moment. First, he declared that they had received "excellent" treatment from the North Korean dictator. He is slavishly devoted to using every superlative imaginable in the English language. I would not have lavished that kind of praise on the monster in charge of that nation.
Second, he just had to say something about TV ratings, commenting that this event was probably the highest-rated one ever for anything broadcast at 3 a.m. His inflated ego and desire for popularity stepped on this significant moment.
Please, Mr. President, consider that not everything is about you. Just savor moments like these as a plus for the American people and let it go at that. I pray there are those in his inner circle who are trying to make that same point.
Overall, though, these developments are reasons for encouragement. May there be more of them.