Former FBI chief James Comey entered most of our minds for the first time back in the summer of 2016 in the heat of a presidential race.
I listened carefully as he held a press conference to share the bureau's conclusion concerning the investigation into Hillary Clinton's e-mail fiasco. He came across as professional and, as he proceeded to lay out all the reasons why she should be indicted—and those reasons were substantial—he then startled me, and probably most who were watching that press conference, with the assertion that she had done nothing that called for an indictment.
The case he presented and the conclusion he came to were diametrically opposite. The veneer of professionalism seemed to melt into what appeared to be either a fear of going forward with the prosecution of a Clinton due to pressure from Attorney General Loretta Lynch or some kind of political bias on behalf of the Democrats.
Or perhaps both.
Then, just a few weeks before election day, Comey re-emerged with the astounding news that the investigation had been reopened due to further information that needed to be followed up. At this news, the Clinton camp screamed while Republicans rejoiced.
Within a few days, that matter was settled, but many Democrats blamed Comey for Clinton's loss.
After Trump was inaugurated, and Comey was still the head of the FBI, rumors surfaced that he and Trump were not seeing eye-to-eye on very much. Reports indicated that Trump wanted some kind of statement of loyalty from the FBI chief and that he refused because his primary loyalty was to his job and the Constitution.
Trump, concerned about the ongoing Russian collusion investigation, summarily fired Comey, thereby stoking another "fire" when the DOJ appointed Robert Mueller as a special counsel to carry on that investigation.
Along the way, Comey has raised the ire on both sides of the political divide, depending on his latest action:
After his firing, Comey didn't disappear. He was called on to testify before Congress and made it clear he passed on information to someone else for the express purpose of having it made public so that a special counsel would be appointed. That admission in itself raised many eyebrows.
But that wasn't the end of James Comey's public persona. Recently, he came out with his book (doesn't everyone in the news come out with a book eventually?) that purports, by its very title, to show that its author is above politics. He claims that he has a higher loyalty to truth, and that he has maintained that high standard.
I certainly agree that we all have that responsibility to put truth ahead of loyalty to any one person, and that someone in the position Comey once held has a particularly heavy responsibility to do so.
The question is whether the book actually backs up its title. Comey has been everywhere lately, interviewed apparently by anyone who has a camera, attempting to make his case that we should believe in his integrity.
Many, though, on both sides of the political aisle, have been less than convinced by his manner. To many, he appears primarily to be self-consciously casting himself as some kind of modern hero standing up to the powers-that-be. Could this book be more self-serving than nation-serving?
Political cartoonists seem to think so. Here's a litany of their responses thus far: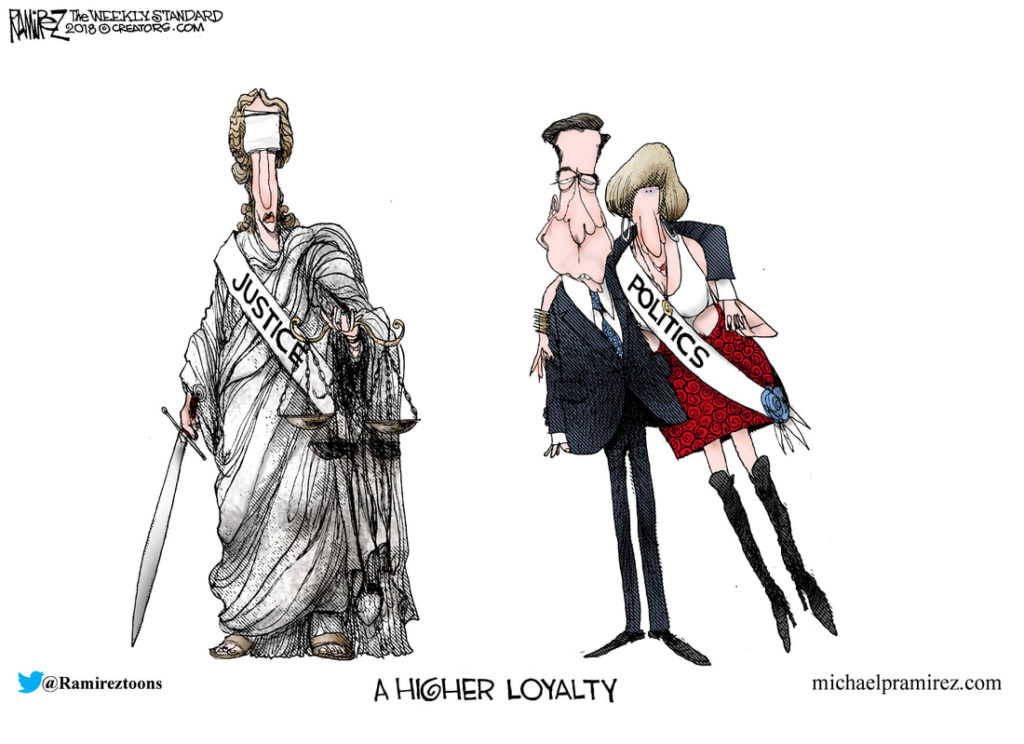 Comey's book has sold well, but how much of it is truth and a commitment to a higher loyalty, as the title claims, and how much is mere egotism? That's your call.