For out of the heart come evil thoughts–murder, adultery, sexual immorality, theft, false testimony, slander. Matthew 15:19
After watching many news reports and reading many commentaries about the Parkland, Florida, school shooting that resulted in seventeen deaths, nothing I've seen or read has changed my mind about the basic issue that leads to such atrocities: the sinfulness of man.
We hear many loud voices calling for new legislation against gun ownership, as if that's some kind of final solution for the problem of sin. Yet we have had gun ownership in this country since its founding. Many lives have been spared by the proper use of guns as a means of self-defense against sinful men.
Guns are not the problem. People are. And our culture, which drifts steadily away from the fear of God and from His truth, only makes that problem worse.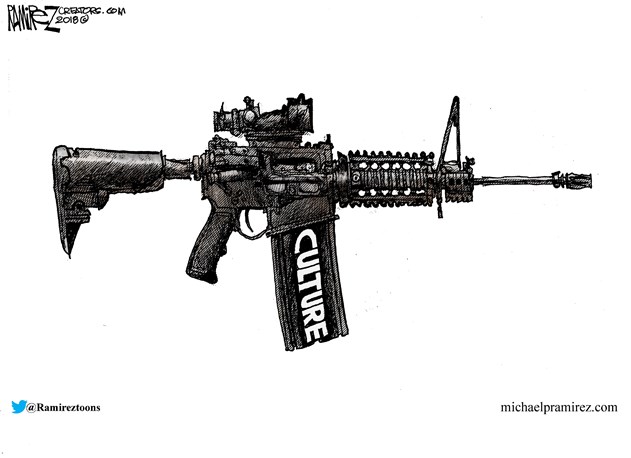 Then we get a CNN Townhall that allows grieving young people to display their angst and try to set public policy via emotion rather than principle and sound reflection. Some may think they are the source of wisdom, but I don't, especially if they are merely spouting a distorted worldview they have received through our perverted culture.
The Biblical admonition about how a little child shall lead them is part of a prophecy of Isaiah in reference to when God will set up His kingdom on earth in the last days. It's when the lion will lie down with the lamb.
We're not there yet. We shouldn't let the immature be our policymakers.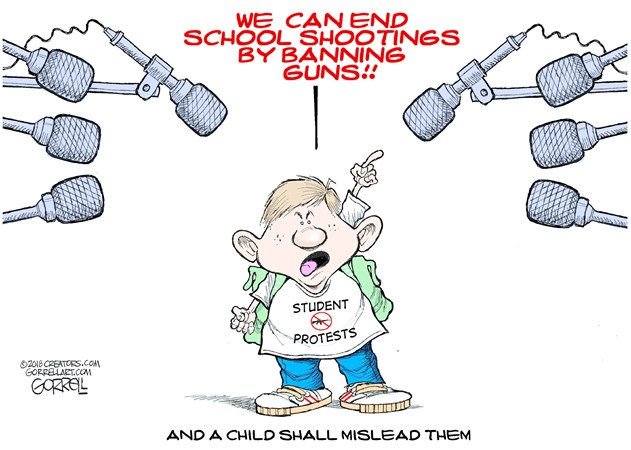 Those who think that legislation is the answer are seeking a utopia—a word that basically translates as "no such place."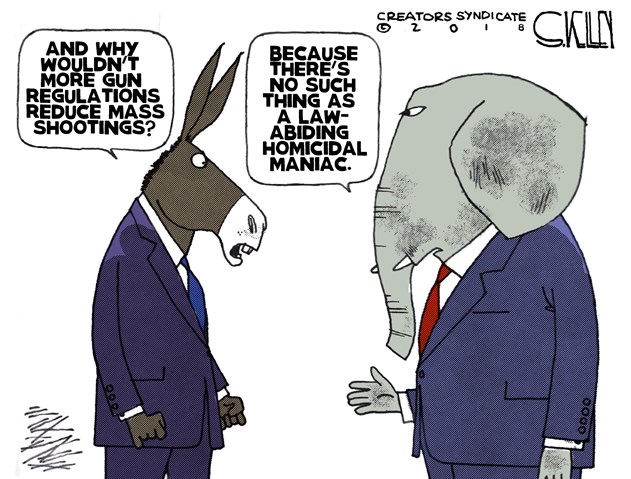 Yes, laws can help, if they are the right kind, based on a realistic view of man's sinfulness. But any law that takes away the means for law-abiding citizens to defend themselves is a law that will lead to even greater atrocities.
We are told by some that if we turn in all the guns, we can be confident that our law enforcement agencies will be able to defend us. Trust them, we are told.
How did that work out in this case?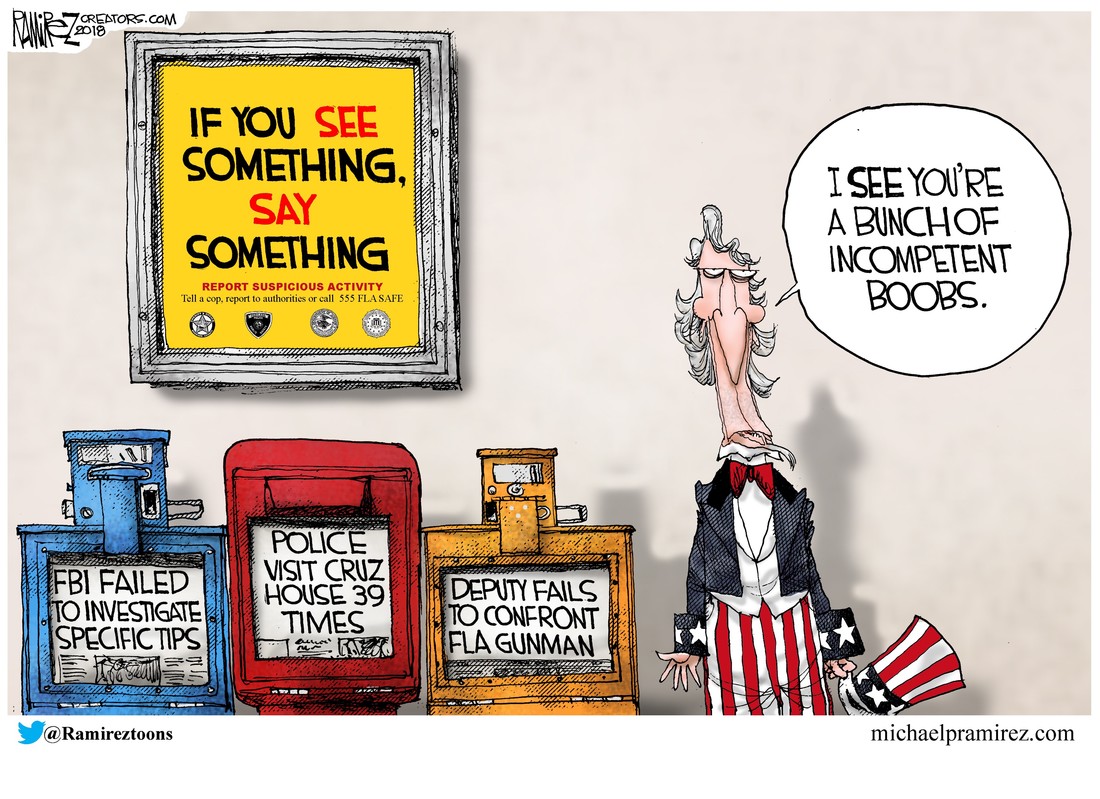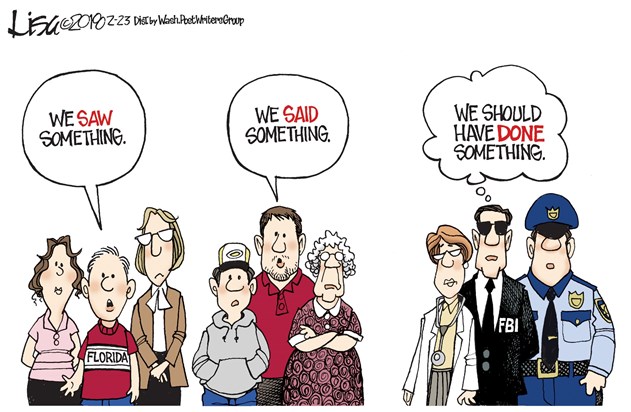 The FBI received numerous calls about the potential for Nikolas Cruz to go off the deep end. It did nothing. The Broward County police responded to numerous incidents with Cruz over the past years. They did nothing.
The Broward County deputy who was assigned to protect the school hid outside, never even attempting to confront the shooter. The county's sheriff is making a fool of himself in interviews after the fact. He is arrogant, defending himself, and blaming everyone else.
Let me also say something here about the organization that is getting pilloried over this, as it always does after a shooting. The NRA (for the record, I'm not a member) is a respectable organization devoted to gun safety. The one time I went to an NRA firing range, I was tested first, then instructed carefully on how to use the weapons.
The NRA is not the enemy of the people.
Politicians like to get their names in the headlines after these terrible incidents. The one who stands out to me this time is California Senator Kamala Harris, who responded to Parkland with this:
This cannot be a political issue. We have to have smart gun safety laws – our babies are being slaughtered.
Sounds good, doesn't it? Yet Kamala Harris promotes the slaughter of babies all the time, as she is a vocal supporter of Planned Parenthood and abortion on demand.
She is not a serious voice, and should be ignored, as should all politicians who wrap themselves in the cloak of protecting our children while simultaneously applauding the killing of the most innocent.
So are we a "sick" society? Wrong word. We are a sinful, depraved society. Scripture also informs us that the problem goes much deeper even than human sinfulness.
For our struggle is not against flesh and blood, but against the rulers, against the authorities, against the powers of this dark world and against the spiritual forces of evil in the heavenly realms. Ephesians 6:12
The solution, also found in the larger context of that chapter, is to put on God's full armor: truth, righteousness, the spreading of the Gospel message to "extinguish all the flaming arrows of the evil one."
There is an evil one out there, even though our society doesn't want to believe that. Neither does the society want to believe that there is One who has overcome the evil one, and that we need to place our full confidence in Him:
Cast all your anxiety on Him, because He cares for you. Be sober-minded and alert. Your adversary the devil prowls around like a roaring lion, seeking someone to devour. Resist him, standing firm in your faith and in the knowledge that your brothers throughout the world are undergoing the same kinds of suffering. I Peter 5:7-9

Submit yourselves, then, to God. Resist the devil, and he will flee from you. Come near to God and he will come near to you. Wash your hands, you sinners, and purify your hearts, you double-minded. James 4:7-8
These Scriptures need to be our guide.