A lot of voters had high hopes that Obamacare might be on the verge of extinction. Have you ever heard of hope deferred?
Democrats, of course, despite all the evidence to the contrary, think they have given the country a wonderful healthcare plan. Maybe it just needs a little tweaking, they say, but it's fundamentally sound.
Try telling that to those who have seen their premiums skyrocket and deductibles so high they will never get any benefit. If only Republicans would work with them, Democrats claim, we could get the job done right. Right.
Let's be honest. For many Democrats, Obamacare was to be the first step toward complete government control of healthcare.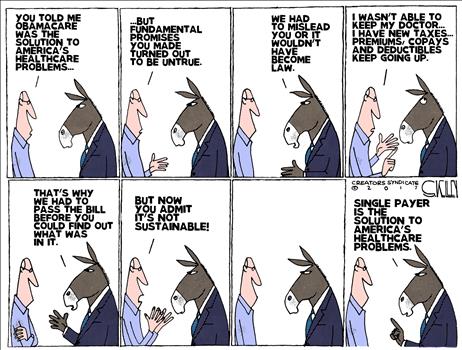 Republicans campaigned on ridding us of this sick attempt at healthcare. They apparently didn't think any further than the promise of getting rid of it. The most amazing thing, to me, is that they weren't prepared for how to do so. This is political incompetence of the highest level.
Promises, promises. Cartoonists have not shied away from exposing this hypocrisy.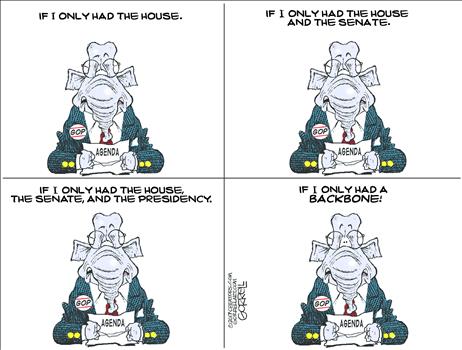 So what have we seen this week thus far? The Senate, only with the aid of VP Pence's tie-breaking vote, was allowed to go forward to discuss the issue. Then two votes were held. The first was on the Obamacare-Lite bill that was at least somewhat strengthened by Ted Cruz's amendment allowing more choice for the consumers. Defeated.
Then there was the resurrection of the bill that every Republican senator voted for a couple of years ago, the one that came much closer to outright repeal (though not fully). If passed, the Senate then could have proceeded with a new plan for replacement.
Defeated again. The saddest spectacle was the "no" vote of a number of Republicans who had voted for the same bill previously and who had promised their constituents they would do so again.
If many Republican voters are angered by this display of hypocrisy, it would be understandable. What is to be done?
Yes, it's a problem with hypocritical politicians, but it's also a problem with gullible voters who keep believing their promises. Don't take their words at face value; examine their records. Be an intelligent voter.
Where will the Senate go from here? Will it pass anything, just to say it did something? Will it then go to conference with the House version (also not very good)? If you have two bad bills going to conference, you end up with an even worse one afterward.
This drama will not be played out soon.