I'm doing my best to give the benefit of the doubt to Republicans. I really am. But what is one supposed to think when one is promised something year after year, then that promise appears to evaporate?
The word "repeal" seems to have lost its meaning over time. Or at the very least, it has been redefined: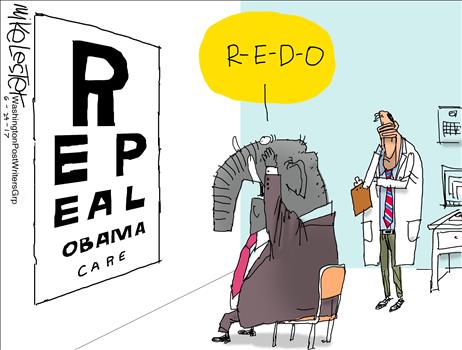 Most analyses of the proposed bills offered by the House and the Senate conclude that they fall far short of repeal, and that, in fact, they keep the essence of Obamacare while tinkering with only some aspects of it. Citizens/voters have an adequate reason to be confused.
Mitch McConnell confidently stated that the Senate would be voting on its bill prior to the July 4 break. Yesterday, that confidence melted away to nothing. Too many Republican senators (though not enough, to be sure) have come out in opposition to the bill as it currently reads. They want changes to move it more in the direction of something that at least looks like repeal.
Republicans can only get this through with a minimum of two defections, but now there are six. And they know they can't get any help at all on the other side of the political divide:
Democrats continue to live with the fantasy that Obamacare works, no matter how wrecked it is. This is a golden opportunity for Republicans to stake out a principled position for a free-market solution, yet what do they do instead?
I'm all for taking steps toward the ultimate goal, but is that what this is? Or are we simply driving the same old heap going over the same old cliff?
It's time for principle to manifest itself, if indeed any of that still exists in the GOP. I'm grateful for those few senators who are attempting to remove the lipstick from this pig and who are desiring real change. May they hold fast and move this closer to actual repeal.