It was nice, first of all, to have a break from blogging while I was in England. It was also nice to write blogs when I came back that could highlight the trip rather than turning back to the political sphere right away.
That respite is now ended.
I have both an intense interest in current events and a sense of obligation to try to shed as much light on what's happening as I can. This certainly doesn't mean that everything I write is spot on; only time will clarify how accurate my comments are.
The one thing that has bothered me most lately is the polarization within the culture. It only manifests itself politically—it runs much deeper, based on differing worldviews.
The cultural and political Left, which are virtually identical, have gone close to insane in many cases. Trump Derangement Syndrome has obliterated whatever common sense might try to assert itself. Take the withdrawal from the Paris Climate Accord.
I believe Trump did the right thing. In this instance, he showed clear thinking (he wasn't tweeting at the time). Yet how has the Left responded to his decision?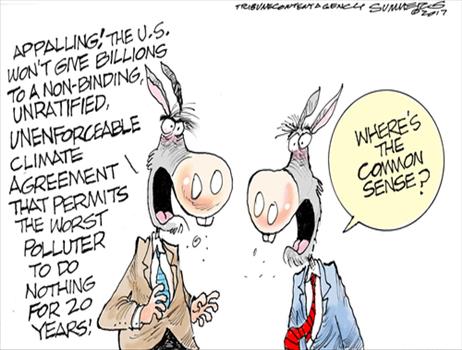 Good question.
Watch out for the rise of the oceans that will surely kill us all:
I guess elections really do have consequences:
Here's another salient point: Obama just did this agreement unilaterally, never submitting it to the Senate for ratification. It was a treaty; the Constitution clearly states that all treaties must go through Senate ratification. He simply dismissed that "minor" detail as nonessential to promote his own ideological goals.
What terrible things are now going to happen as a result of pulling out of this accord?
Precisely.
Then there was the Kathy Griffin story dominating the news cycle for a while. Her stunt left the Left reeling, as very few of her ideological soulmates were willing to support her performance art (a nice way of describing it).
Abandoned by CNN and her usual Trump Derangement Syndrome fellow travelers, she tried an apology, but it had to be worst attempt at an apology on record, blaming the Trump family for her now-ruined career.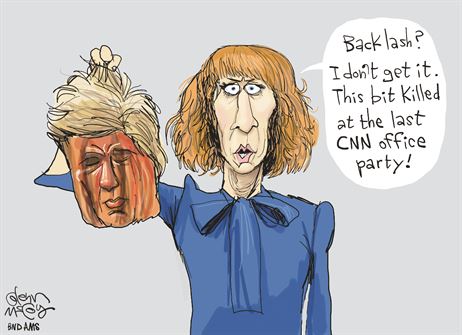 So, Trump's decision to pull out of the Paris agreement was common sense. The foolish and reprehensible Griffin gave plenty of reason for the public to rally to his side. One would think he could take advantage of that politically.
But he still has that Twitter account:
That particular tweet was more puzzling than anything; at least it had nothing to do with policy. If only it would have stopped there. President Trump seems determined to remain his own worst enemy. More on that in a future post.