Russian influence has been all the rage lately. Democrats want to prove that somehow Russia caused Hillary to lose the election. Good luck with that. She was her own worst enemy. Denial is a terrible thing, leading to blindness.
I won't deny something, though, and that's the uncomfortable sense that Trump is far too comfortable with Vladimir Putin. For that reason alone, I don't mind investigations going forward to find out who may have been too connected to Russian influences. But I want that investigation to go both directions: Republican and Democrat.
Amnesia works wonders. How many recall that accidental hot mike incident when Obama told the Russian leader at the time that once he got reelected, he could be more flexible? Investigations, anyone?
Now AG Jeff Sessions has become the latest target. He is accused of meeting with Russian officials during the campaign. What is forgotten is that he was a senator with foreign relations responsibilities. One of those "meetings" has now been revealed as having been set up by the Obama administration, and it was with a number of foreign officials, not just Russian.
Do I know all the truth about those accusations? No. But do I suspect they are bogus? Yes.
I support the call for a thorough investigation; let the chips fall where they may. But the news media's thirst for a Republican scandal says more about them than Sessions. Most of the media is, and has been, simply another arm of the Democrat party, in concert with its goals:
I seem to recall another AG who did some things that didn't seem to bother the media:
Trump may be generally unpopular, but the media may be even more reprehensible in the public's eyes, and for good reason:
I will never be at ease with Trump's tweeting, nor with his basic character. As I have said before and will repeat now, I will support him when he is right and call him out when he is wrong. I will do my best to be an honest commentator.
His war with the media has many conservatives thrilled; I think some would like to see him go even further: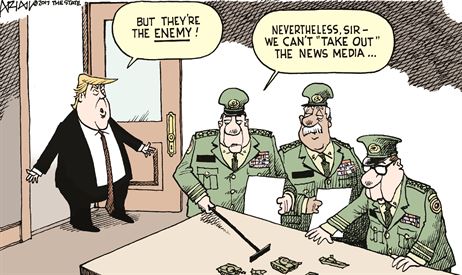 Frankly, though, I'm not convinced the "war" is all that genuine. He's a showman; he knows how to whip up an audience. As long as he can do so with this approach, he will use it. If it becomes counterproductive, he will switch gears.
Character remains the bedrock foundation upon which good government is built. Let's never forget that.