Last week, I gave an overview of some of Trump's picks for his cabinet, both the solid ones and ones I consider questionable. I omitted a few (hard to cover them all), but I should mention in passing the choice of Rick Perry for energy secretary (very good) and Elaine Chao for the Department of Transportation.
There are mixed reviews on Chao: she served as secretary of labor previously, where some said she did very well, but there is criticism that choosing the wife of Sen. Majority Leader Mitch McConnell is not exactly a prime example for the drain-the-swamp battle cry.
Many Trump supporters have high hopes for what he will accomplish, for sure: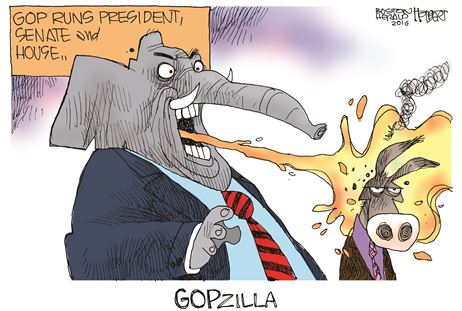 That would be nice, but I'll wait to see what kind of results we get.
Some of the jobs closest to Trump don't require Senate confirmation. They tell you the most about who Trump trusts.
First on that list would be Stephen Bannon, formerly of the Breitbart website. All kinds of opinions have been offered about Bannon. My view of him is somewhere in between those who view him as the devil incarnate and those who see him as the policy savior.
With the lofty title of chief strategist, Bannon will apparently be responsible for guiding Trump in his decisions on what policies to push for and how to get the job done. Bannon is hard-driving, which can be good for such a position, but he also can alienate people very quickly.
My first acquaintance with Bannon was positive. He was one the writers/producers of a video that I use in my course on Ronald Reagan and modern American conservatism.
That video, In the Face of Evil: Reagan's War in Word and Deed, details Reagan's decades-long fight against communism and the strategy he used to take down the Soviet Union. It is a powerful video, one that offers a clear corrective to the liberal interpretation of events that led to the Soviet downfall.
The quality of the video is outstanding, and I highly recommend it to anyone who has not yet seen it.
Bannon's latest position at Breitbart, though, gives me pause. I don't accept the cry of "racist" that some would level at him. I am concerned, though, that he allowed that site to be a provocative place where the so-called "alt-right" felt comfortable. I want nothing to do with them, as they are far too close to neo-nazism for me.
Bannon is no racist or Nazi, but when you play footsie with those who are, you tarnish yourself. Just so you know, I used to be a contributor to Breitbart's Big Government site, so I have no axe to grind here. During the election, though, I stopped reading anything from Breitbart, as I saw it devolve into a Trump propaganda mouthpiece, willing to smear other candidates in its devotion to Trump.
I'm definitely wait-and-see with Bannon.
Another controversial appointment is former general Mike Flynn to serve as Trump's national security advisor. I've watched Flynn being interviewed on news programs, and again, I'm a little torn.
Flynn's positive is that he understands the Islamist threat. His negatives are that he is potentially too emotional, too open to conspiracy theories (like his boss), and perhaps far too friendly to Russia, which I continue to see as a threat to our national security, not an ally.
As with all of Trump's questionable choices, I simply hope and pray for the best.
Finally, there is the very first decision on personnel that Trump made: installing Reince Priebus as his chief of staff. That decision was probably wise, as Trump needs someone who can work well with the Republican party overall.
Priebus, as chair of the Republican National Committee over the past years, has shown himself to be someone who can navigate the perils of politics. I've not always been a big fan of his, especially when he seemed to jump on Trump's train much too soon and shut down any opposition to Trump at the national convention.
Yet if Trump is to succeed working with the party he so recently joined, he needs someone like Priebus to act as a guide.
I believe I've covered most of the key players in the upcoming Trump presidency. I hope the good ones can have a positive influence on him and his policies; I hope the questionable ones are either denied confirmation or will not detract too much from what this administration needs to be to reverse the political course of the nation.
Let me add this, though: reversing the political course is not enough; it's the spiritual/moral foundation that is in need of the greatest repair, and that will never come through politics. Christian influence on the culture remains the top priority.