Democrats are in disarray. They need assurance that they are on track for the future. Their leaders are in the business of reassuring them that what happened in the 2010 and 2014 congressional elections and the 2016 presidential election are all anomalies. Don't worry, they're told, the leadership knows what it's doing.
As if to prove to themselves that's the case, Democrats in the House have given Nancy Pelosi another victory–she's been chosen as their leader again, despite all those electoral disasters.
Some in the party find that incomprehensible; they need to find some excuse for how it happened.
Meanwhile, congratulations on her victory come from one unexpected source:
Yes, Republicans are on a roll, and Donald Trump has a new approach that no other president has ever tried: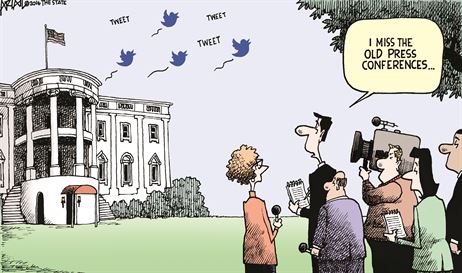 I have mixed feelings about that approach. While I love having the media shut out on occasion, the constant tweet flow from the president-elect doesn't come across as presidential to me. It would be much better, of course, if he were more restrained in his comments, but that's probably not in the offing.
For instance, tweeting that flag burners should be punished either with prison time or loss of citizenship runs counter to the First Amendment. Now, he can get away with saying such things simply because the majority of Americans (myself included) deplore that action. It's insulting to the nation that gives everyone the opportunity to express disagreement. Destroying the flag is an act of ingratitude, and it is supremely juvenile.
Yet it's a political winner for Trump. Our anger over the brazen act "trumps" concern for the First Amendment.
But anytime we minimize the First Amendment, we are treading on dangerous ground.
Trump also is congratulating himself over keeping Carrier in Indiana rather than having the company move some of its activity to Mexico.  Again, this is a mixed bag. One can be glad those jobs were saved, yet how is this different from the crony capitalism that Trump supporters supposedly deplore? Giving one company a break that other companies in the same field don't get is the ultimate in having the government choose winners and losers.
Trump is now embarking upon what he calls a "Thank You Tour," holding rallies ostensibly to thank his supporters. I listened to part of his first rally. I'm sorry, but to me it sounds more like a "Trump Ego Tour."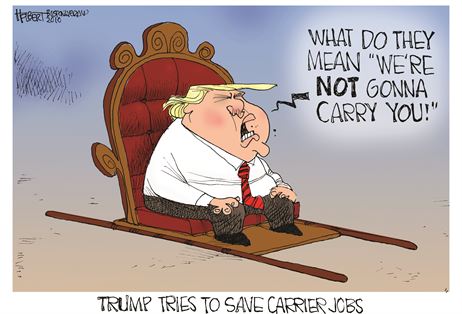 Oh, no, there you go, Snyder, just Trump-bashing again. No, that's not my aim. As I've said, I will give him credit when it is due, and I do hope for the best. I'm pleased with a number of his cabinet appointments. I'll write about those sometime next week, I presume, once a secretary of state is chosen.
But I'm looking for something else in him—humility. You see, I'm old enough to remember Ronald Reagan, the president who never took credit for anything, but always thanked God for blessings and praised the innovative nature of the American people. He gave credit to both God and the people for the economic revival in his day, not to himself. Trump is always bragging about the credit he deserves. That's not the Reagan spirit that I seek.
I have a paperweight I purchased at the Reagan Library with one of my favorite Reagan quotes engraved upon it. It reads as follows:
There is no limit to what a man can do or where he can go if he doesn't mind who gets the credit.
That can be true of Donald Trump also. For the sake of the nation, I pray he will begin to understand that truth.