The Green Party candidate, Jill Stein, has figured out a way to get more "green." Raising funds for election recounts in Wisconsin, Michigan, and Pennsylvania has given her more publicity than anything she did during the campaign. Since there's no possible way a recount gives her the presidency, and because she doesn't really care that much about Hillary Clinton, her reasons for pushing this, many people believe, are purely monetary.
She will say, of course, that the goal is election integrity, but the chance of reversing the vote total in any of those states is infinitesimally small. I'll go with the money and publicity angle.
The Clintons' fortunes have definitely taken a downturn with the election result. I wonder what all those donors to the Clinton Foundation are thinking now?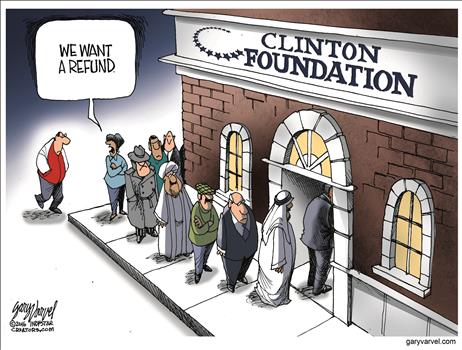 The lucrative speaking business for the Clintons may take a hit. Does anyone think Hillary is going to pull in six-figure fees now?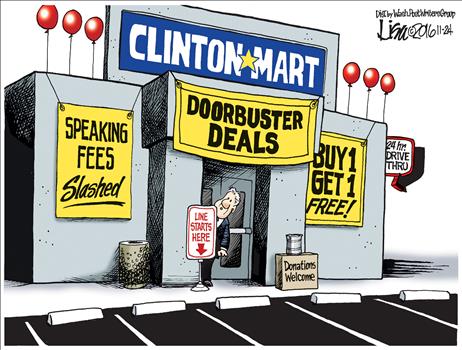 Even though Trump has said he won't pursue prosecution of Hillary (thereby breaking a promise to his followers and fidelity to the rule of law), the FBI's investigation into the Clinton Foundation continues. Will justice ever be done?
The Democrat party overall is in disarray. That doesn't bother me. Only one person seems to have landed on his feet, though undeservedly:
Obama's policies (and arrogance) combined with Hillary's corruption (and arrogance) have led to this electoral disaster. They have no one to blame but themselves.
Meanwhile, Trump is in the process of choosing his cabinet and other key advisors. A number of his nominees are very good; a few are questionable. I'm still of the opinion that putting Mike Pence in charge of running the country is the best option: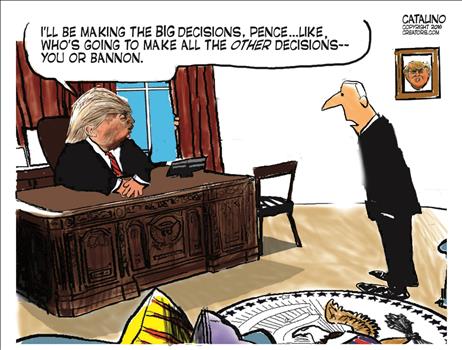 Whenever Trump does something right, I will back him. Whenever he goes off the rails, I will point that out. My goal is to be scrupulously fair to him. I won't be a critic just for the sake of criticism, but neither will I promote him when he violates the oath of office.
Once all of his key nominations have been made public, I'll provide an assessment of those individuals.
It's not just a cliché to say that I am praying for the best for our country.