Even though I didn't want Donald Trump to be president, I didn't want Hillary Clinton either. So I'm going to have to live with the results of the election. One of the most satisfying aspects of those results is the absolute rejection of nearly everything Barack Obama has tried to do.
Amazing, isn't it, how he now talks about the need to work together. Must have something to do with the potential loss of his "landmark" legislation inaccurately called the Affordable Care Act.
"Compromise" has now become a word he's willing to use. Don't get too excited, though; his application of the word might not be the same as yours: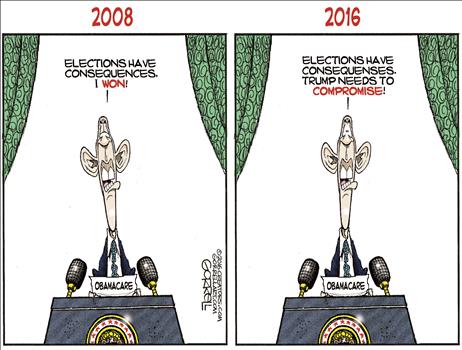 After eight years of working so hard to fundamentally transform America, he's a little alarmed about all that work being for naught:
I recall something in the Scriptures about building on sandy foundations. You can look it up.
Democrats, meanwhile, have discovered that they are rudderless, having tied themselves to a cult of personality for so long. What are they to do?
Frankly, if they remain rudderless, I won't mind.
One of their biggest cries of anguish stems from the fact that Hillary lost the electoral vote while winning the popular vote. They tried that ploy back in 2000; it won't get them any further this time around.
Why did Hillary win the popular vote? Is it because she was more popular nationwide, or is it due to an overwhelming popularity in California and New York? There's a reason why the electoral college is still the better way to choose a president—it doesn't allow for a few large states to determine the winner. Smaller states still have a proportional say in who the nation really wants.
A Democrat dream would look like this:
Except for Texas, this method of choosing the president would almost always guarantee a Democrat victory. As usual, the Founders knew better.