The Hillary Clinton saga continues. I'm going to let political cartoons carry most of the weight today. Back in July, FBI Director James Comey said there was no reason to prosecute Clinton. That announcement came shortly after a certain meeting:
The Clinton team thought that was that. Attorney General Lynch had effectively run interference and smooth sailing lay ahead. Then there was this: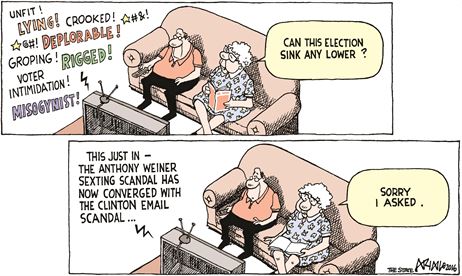 Apparently, Lynch tried to stop Comey from letting the world know that the investigation was back on. It didn't work this time:
I don't know how many of the younger generation will get the significance of the next cartoon. Go watch some old episodes of Columbo and you'll understand:
Can we say that this reopened investigation has thrown the Clinton campaign for a loop? Gotten it off-track, perhaps?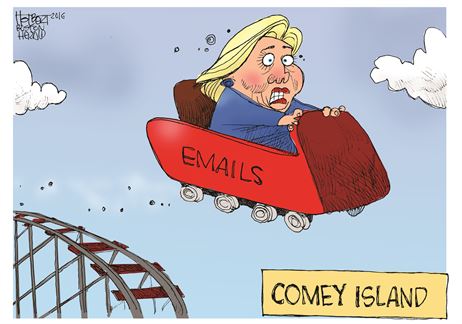 Some of the more conspiratorial among us are concerned for Comey's future: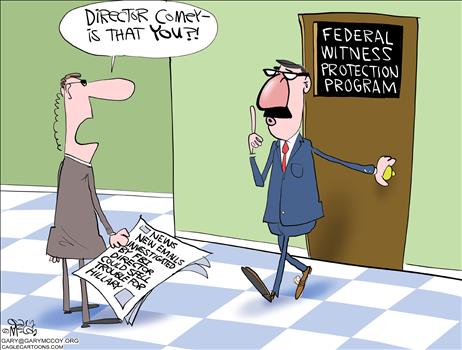 For Trump, this has been a true godsend (although I'm not convinced God is behind it to bolster Trump). It has kept him from going off the rails himself again, and even if he does, everyone is now focused on Hillary. The election is now closer than before, if the polls are to be believed.
I think this cartoon captures the spirit of the electorate at this point: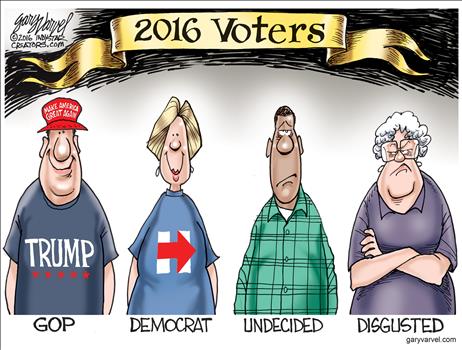 The one on the right probably represents the majority at the moment. There won't really be a winner next week; one will simply be less of a loser than the other.