Back in the 2008 election, I held an event on the Southeastern campus where I compared the Republican and Democrat platforms. Without saying anything myself about my own beliefs, I simply laid out the differences between the parties. Normally, that's a very effective approach. At the very least, it makes people come to grips with the extremism on the Democrat side on issues like abortion. This year, the Democrat platform is even more extreme, pushing same-sex marriage also.
At the top of the Democrat ticket this year, we have a woman who is arguably the most corrupt candidate in presidential electoral history. New revelations about her come out every day.
The combination of her private e-mail server while secretary of state and her mingling of her high position with donations to the Clinton Foundation are an abomination.
And should she be inaugurated as president in January, the oath of office might be unique: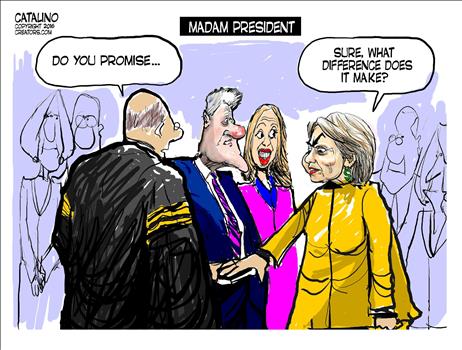 In a normal year, Hillary Clinton would be defeated handily. But this is not a normal year.
While it's still valid to compare the two party platforms, the effect is not the same as it was for me back in 2008. I had my doubts about John McCain as the Republican nominee that year, and those doubts persisted when Mitt Romney was nominated in 2012, yet I still voted for them.
This year, we keep hearing a mantra that goes something like this: "There is no perfect person running for president. Both candidates are flawed. We just have to choose the lesser of two evils."
I'm a little sick of hearing that. Here's why.
It's no big revelation that no perfect person is running for the office. There never has been one of those throughout American history. All candidates have some flaws, but there is a distinct difference between having flaws and being evil. I will never choose the latter.
Sadly, this year we have the latter. Both Hillary Clinton and Donald Trump represent evils that I cannot stomach in the White House—nor any other political office no matter what level.
I love the Republican platform. However, the person at the top of the ticket is not someone who actually believes in that platform. I am for candidates who truly support that platform, which is why Republicans down ticket will receive my vote. The one at the top, though, will not.
There is a difference between being a flawed candidate and being a reprehensible one. McCain was a maverick who couldn't always be counted on, but he adhered to most of the platform. Romney had the baggage of having introduced a prototype of Obamacare when he was governor of Massachusetts. Yet he was a decent man with a strong family who has always been faithful to his wife.
So despite their flaws, I could vote for them. Trump goes beyond simply having flaws. His character is absolutely despicable. I won't repeat the litany of horrible words and actions throughout his life (and continuing today, not just somewhere in the distant past). Almost daily, he reminds us how despicable he is.
Trump went to Gettysburg to deliver what was supposed to be a serious speech about policy. Instead, he made other headlines by using that august forum to declare he's contemplating suing all those women who have come forth to tell of his unwanted sexual advances:
His campaign has been a disaster (to use one of his favorite words). Many Republicans now have had second thoughts. Too bad they didn't have first ones.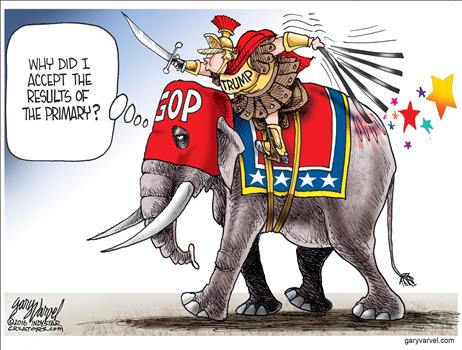 Yet, despite everything Trump has done, and despite the latest round of evidence that he is a moral reprobate, many evangelical leaders have reaffirmed their support for him. I find that incomprehensible.
Fear of Hillary Clinton has led people who used to stand for Biblical principles and Biblical morality to abandon that stand. I know, they think they are doing the right thing by keeping Clinton out of office. But putting Trump is that office is not the right thing either. He's a petulant man-child who will not follow through on his promises.
I want a good Supreme Court as much as anyone. Trump will not deliver it. Even if he should offer a solid nominee, that nominee will not make it through the Senate. He will then compromise with the Democrats and nominate someone they can like. Mark my words. Hanging everything on Supreme Court picks is a false hope.
I will not choose the lesser of two evils. I will not willingly choose blatant evil. Both candidates qualify as evil.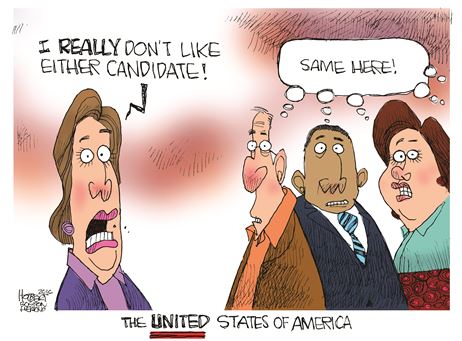 However this turns out, we will have no choice but to accept the results. Here's where real Christian faith comes in. Can we still believe that God is working in ways we may not see? Do we maintain the confidence that the best way to assure God hasn't given up on us is for us to stand apart from the evil choices before us?
The Lord will work through His people if they stand firm against all types of evil. By giving in to evil, we short-circuit much of what He might do to extricate us from that evil.
It's time to take that stand and then see what the Lord really will do in spite of the circumstances we now face. I am taking that stand.