There has never been a more eminently beatable candidate than Hillary Clinton. Yet she is now poised to win the presidency despite her manifold lies, despicable character, disastrous tenure as secretary of state, and no real record of accomplishments.
The latest is that the FBI has now "found" another 15,000 e-mails that ran through her private server. We will be told what is in some of those by mid-October, according to the report I read.
One has to wonder if FBI director Comey may now be forced to reopen the investigation for the purpose of an indictment after all. Of course, with the Obama administration still in charge, that is probably a fantasy.
Hillary has also made herself scarce when it comes to answering questions from the press, having not held a press conference for something like 200 days. What other candidate would be allowed to get away with that?
Questions have been raised about her health, stemming from a possible concussion a few years ago. Some of that may be pure speculation, but there are legitimate concerns about whether she is really up to handling any responsibility, let alone the presidency.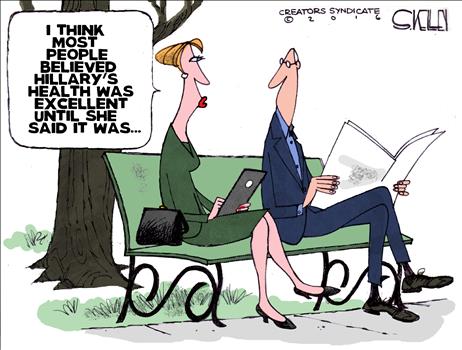 Polls show that a significant number of Americans don't really trust her and believe she lies about almost everything.
And yet she is on the verge of occupying the Oval Office.
This was supposed to be the year when we could put the Clintons behind us forever. This was the year Republicans were practically salivating over, after two disastrous Obama terms. This was the year when widespread revulsion over what has transpired over the past eight years would give Republicans the chance to fulfill their promises.
Then this happened.
I've been accused by some of "Trump-bashing." The reality is the Republican voters and the establishment have joined together to bash themselves with a Trump candidacy, thereby losing the greatest opportunity ever presented to them.
They said they wanted a candidate who tells it like it is. They blindly followed someone who fed their anger and fears. They stopped thinking and just let their emotions take over. This is the result.
Set aside, for the moment, all the ideological reasons why Trump is a bad nominee. Don't think about, for now, his character (equal in despicability to Hillary's). Just look at how he's conducting this campaign.
Trump promised to spend a billion dollars of his own money on the campaign. He has thus far contributed $50 million. Why not more? Why has he not fulfilled that promise? Could it be because he's something like $650 million in debt, far more than what people thought? Is he really telling us like it is?
In his most recent campaign disclosure, we find that Trump spent nothing on ads in June. The total raised in July is only one-third of what Romney raised that month in 2012.
Of the $18 million spent in July, $8 million went to a web-design firm for fundraising, which is a little disproportional.
The campaign spent $500,000 on hats.
The campaign spent $2.5 million on private air travel, which is six times more than what it spent on staff, state organization, and ground game in the states.
Conservative commentator Steve Deace points out the following instances of incompetence:
What would we say if trailing consistently in polls, Hillary Clinton decided to hold rallies in unlosable blue states like California and Massachusetts with less than 80 days to go before the election? Because that's essentially what Trump is doing by campaigning in Texas and Mississippi this week.

Trump lacks organization in Hamilton County, which may be the most pivotal county in must-win Ohio. Last week, Trump opened a second field office in must-win Florida, where Hillary Clinton already had 14 field offices. Trump's organization lags behind Hillary's in Virginia, which no Republican has won the presidency without since before Reconstruction.

Earlier this summer GOP leaders in Pennsylvania, which is crucial to any hopes Trump has of winning the White House, said there was "almost no sign" of a Trump organization there.
This is virtually a no-hope candidacy.
I'll restate it: Hillary Clinton is the most eminently beatable candidate in recent history. Republicans have squandered their best hope. What remains is the issue of whether the party can pull itself together again after this fiasco.