Yesterday I went to see Dinesh D'Souza's new film, Hillary's America. I saw his previous two—2016: Obama's America and America: Imagine the World Without Her—and all three, from my perspective, are superbly written, visually effective, professionally produced, and timely for an age living in deception.
My personal favorite is the second, America: Imagine the World Without Her, but the new Hillary film is very significant as well.
Hillary's America has two goals: trace the "hidden" history of the Democrat party; reveal the character of Hillary and the disaster we would be facing should she become president. D'Souza makes his point well on both fronts.
For me, there is no hidden history of the Democrats. I teach much of what D'Souza documents in the film. I'm sure some of my students are surprised when I show them that it was the Democrats who pushed Native Americans out of their lands, that it was the Democrats who defended slavery and segregation, and that for most of our post-Civil War history, at least until the 1960s, the majority of black Americans voted Republican.
D'Souza lays out the stark difference between Democrats and Republicans in the history of race relations in America. His documentation seems to be solid; this is not simply a partisan Republican diatribe against Democrats. As a historian, I recognized immediately the quotes used in the film (many of which I use in class also) and can say he is not using them out of context.
Goal #1 achieved.
When he then takes aim at Hillary Clinton, he again effectively uses her own words and those of her mentors (Saul Alinsky, for example) to show how her views developed and what she has become. Making the long story very short, I can say that anyone walking away from this movie thinking Hillary would be a fine president wasn't really listening.
Goal #2 achieved.
The movie makes ludicrous the assessments of Hillary's supporters (read: Barack Obama) that she is more ready than anyone in American history to assume the mantle of the presidency: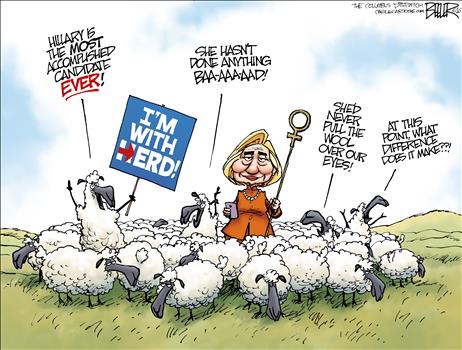 D'Souza clearly shows how the Clintons have always used whatever means available to promote themselves and take advantage of others. This time around, they had the DNC to act as their bouncer, making sure that Bernie Sanders never had a chance:
Not that I wanted Sanders to be the nominee, mind you, but the Clinton machine is far worse.
Then there was Bill's sappy speech about what a great love affair their marriage has been. Is there anyone out there who really believes a word of that?
They have a political marriage, pure and simple. Well, maybe not so pure. Did you notice what Bill left out of his speech?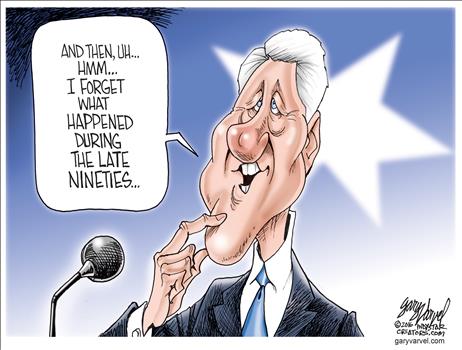 In case any of you have forgotten, you can still get my book, Mission: Impeachable, on Amazon. It's out of print now, but there are used copies available. It would be a great refresher course if you weren't paying attention in the late nineties or you weren't old enough to have experienced it firsthand.
As D'Souza shows, deception has been the hallmark of everything the Clintons have done. There's no reason to believe that would change in another Clinton presidency. She definitely would be Obama's third term, and she would be just as deceptive and as much of a liar as he has been over the past seven years. She could even use his slogan, albeit with a slight alteration:
And who knows what else will come to light after she is elected?
This brings me to the only weakness of Hillary's America. D'Souza offers as a solution voting for the Republican candidate. Oh, how I wish I could! If only the Republicans had chosen a Republican for their nominee!
Prior to Trump's nomination, I was really looking forward to this election because I knew that Hillary's baggage was so great that she was eminently beatable. Now, instead, we are given the choice between two crime figures instead of one crime figure and a true conservative.
I agree with D'Souza: Hillary Clinton should never be president. Unfortunately, Donald Trump is no better. A film could be made about his life and dealings and, I'm sure, it would be just as damning.
So, thank you, Mr. D'Souza, for pointing out what we need to know about Democrats in general and Hillary in particular. However, this time around, your solution is no solution at all.