Historians and political scientists have used the term "moral equivalence" to describe things they hold to be about the same morally. I've taken them to task on some applications of the term. For instance, I see no moral equivalence historically between a power-hungry, genocidal Soviet Union and a United States that attempted to defeat totalitarianism and free people from tyranny. The Cold War was not the result of moral equivalence but of a communist regime declaring its goal of dominating the world.
I've also rejected all along the idea that there isn't a dime's worth of difference between the Democrat and Republican parties, regardless of how often I've been disappointed by how Republicans let down their supporters. Publicly, the party platforms couldn't be more at odds on issues like abortion and marriage. That divide also can be seen in the majority of elected officials: Democrats don't win the nomination of their party if they are pro-life; Republicans risk losing support if they stray from pro-life.
This election is changing the argument I've always made against a false moral equivalence. By nominating Donald Trump, Republicans have take a big step away from their platform; by endorsing him, many Republican officeholders have declared that his character and views don't matter, even if they ultimately destroy what the party has stood for historically.
With Donald Trump and Hillary Clinton now the presumptive nominees, there is a moral equivalence that comes to the forefront. Trump's latest foray into foolishness (the "Mexican" judge controversy) has some Republicans now backing away from outright support, for which I'm glad. However, his many antics—which won't change because he won't change—are highlighting just how reprehensible he is.
Here is the real moral equivalence: there is no difference in character and/or temperament, and I'm not at all convinced there is any real difference in policy. Trump's character is not trustworthy, so I don't believe the promises he makes now.
Some cartoonists are making this same point.
A number of cartoonists seem to be making the comparison on the foreign policy side: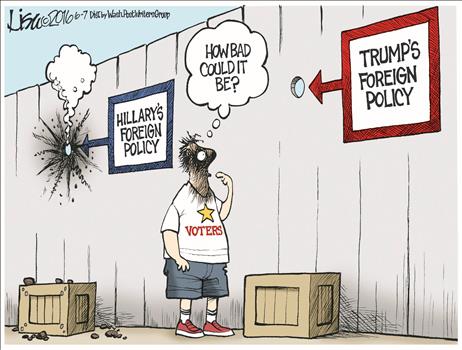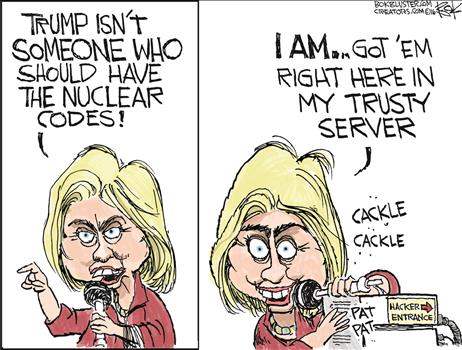 Democrats are thrilled that Trump is the Republican nominee because they believe he is eminently beatable—and they are right. However, to extend the moral equivalence argument further, when they really stop and think, they realize they have just nominated the most eminently beatable person in their party:
They have to come to grips with just whom they have made the image of their party:
In the same way, many Republicans are coming to grips with what they have done: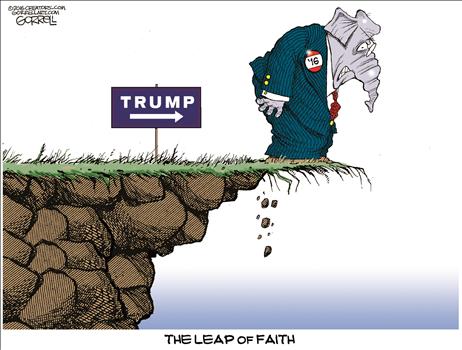 Yes, moral equivalence is an appropriate term for what we are experiencing now.