Yesterday, Donald Trump finally came out with his long-promised list of judges he would consider for the Supreme Court. By all accounts from conservatives, the list is excellent. Apparently, Trump's people even reached out to National Review for suggestions, which is interesting, since NR began the NeverTrump dialogue with one of its issues.
So, I will begin by giving credit where it is due: this is a good list. Now, the problems.
First, the context of the list is for replacing Antonin Scalia; there is no promise to choose from that list for later Supreme Court openings. I still remember Trump saying that his pro-abortion sister would make a fine Supreme Court justice.
Second, all we have is his word that he will choose from this list. What is his word worth? Well, even his chief spokespeople have said that words don't matter that much, and that all he has proposed for policies up to this point are mere suggestions.
Then there is his sordid history of constant lying. I am on the side of Ted Cruz when he labeled Trump a pathological liar. I believe the evidence of not only the last nine months, but of his whole life, backs up that charge.
Consequently, I do not trust him.
Just try to follow his weaving from one position to another on a variety of issues and what do you come away with?
The fact that he is going to be the GOP nominee is a supreme irony, given all his past associations with the liberal side of politics: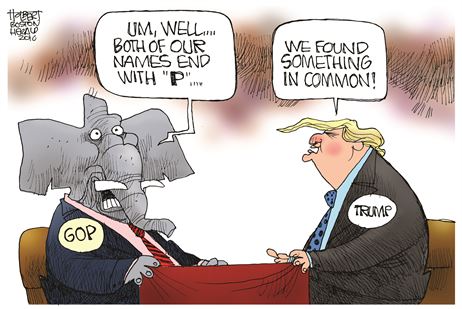 Yet we have this mad rush to endorse Trump by most Republican politicians. I understand the rationale of some who have pledged to support the nominee, whoever that might be, but I am not comfortable with taking that position myself. For me, it's an abandonment of principle to give my support to this man:
That's why there's so much chatter about a third-party challenge, if for no other reason than to provide a conscience-grounded alternative. As a historian, I know the fate of third parties. I have no reason to think that anyone running on a third-party ticket will win the presidency, but I understand the frustration.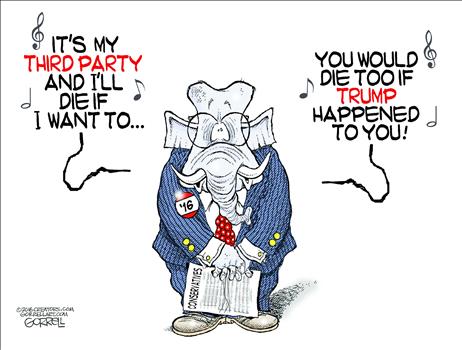 Interestingly, though, if there were to be a fourth party as well, all bets are off for the two frontrunners. Let's say, for instance, in addition to a conservative option, we also have Bernie Sanders, angry over how many states he can win and yet not overtake Hillary, deciding to run as an independent.
That scenario could result in no one winning a majority of the electoral votes, thereby throwing the decision into a Republican-controlled House of Representatives, as it did in 1824. Would that House really choose Trump, or would it instead turn to the conservative candidate?
Of course, any conservative candidate would have to be accepted by strong conservatives and moderates alike to garner enough support, but stranger things have happened—like Donald Trump getting the Republican nomination in the first place.
Do I expect that scenario to unfold? The probability is not high. But I'm watching closely. You just never know.