Today's vote in Indiana could well determine whether Donald Trump gets anointed as the Republican nominee or whether Ted Cruz can successfully overcome the false narrative being promoted by the media and emerge as the logical alternative.
If only Trump supporters would actually listen to everything Trump says, they might have second thoughts: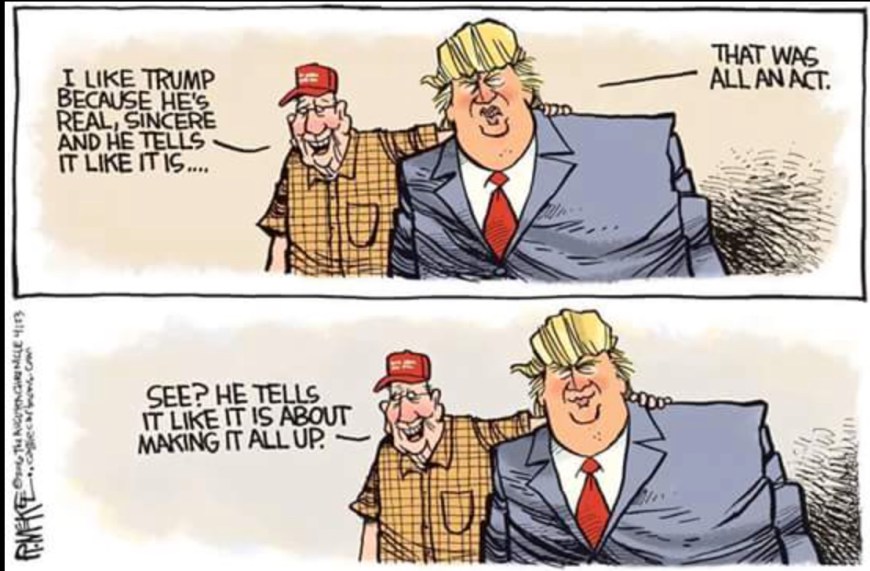 Yet, as the above cartoon indicates, there is almost a cult-like willingness to overlook any and all discrepancies in their preferred candidate. Never mind that he is not really the "outsider" who is going to shake up politics. Never mind that he has given thousands upon thousands to Democrat politicians. Never mind that John Boehner is his texting and golfing buddy.
If Ted Cruz had all of that baggage in his background, do you think they would ever support him? But since it's Trump, who cares? He's our savior.
Yes, the system is indeed crooked, but that system has worked for Trump throughout his life and continues to work for him today. He has garnered a far higher percentage of delegates than the percentage of his vote in all the primaries. How is that fair?
And all that talk about being the best "unifier"? The childish insults that emanate from his mouth betray the lie of being a unifier:
His supposed major foreign policy speech last week was so canned and programmed, it was painful to watch. The segment I viewed had him pronouncing the word "says," not as "sez," but as "saze." That mispronunciation made it obvious that he was reading a script. He was the puppet, repeating what someone else wrote for him.
Others have pointed out another embarrassing mispronunciation of the nation of Tanzania. His knowledge deficiency is earth-shaking.
Yet what do we witness? A rising tide of support from within the Republican establishment for this pseudo-candidate, all because they think he is inevitable. What a sad spectacle.
This kind of sellout on principles is what will doom us as a nation.
We have had our first black president. We may have our first woman president, particularly if Trump is the nominee. If, by some weird freak of the vote, he should actually win the presidency, we will have—as one of my Facebook friends noted—the first third-grader as president.
Indiana, please don't make that path to oblivion any easier.