Every once in a while, in the midst of a heated campaign, we need to be reminded that we have a president already who is doing his best to ruin the country. As we wind the clock down on the Obama years, there will be many reviews of what has occurred during his two terms. May I begin that review today?
Let's start with the economy, which was rather broken when he took office. He immediately rushed into that arena and made matters much worse.
How does a nation go from $9 trillion in debt to about $20 trillion in seven years? Most would have thought that impossible, but Obama has achieved it.
Then there was his signature piece of legislation: Obamacare. As state exchanges collapse and major insurers start a stampede for the door (e.g., United Healthcare), I think it's about time to make a judgment on the efficacy of that radical makeover of the healthcare system: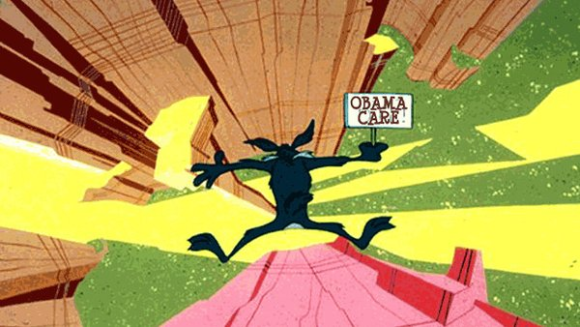 That probably illustrates its status as well as anything I've seen lately.
We've also become rather confused morally and culturally in the Obama years, from same-sex marriage to acceptance of transgenderism. Obama himself has been the chief cheerleader toward his image of a Brave New World.
Hey, we're now free to "self-identify" as anything we choose to be. Perhaps we can extend that philosophy to the rest of creation also:
If you think that's ridiculous, just take a moment and ponder how ridiculous it would have seemed if, seven years ago, we had been told that we would now have people boycotting North Carolina because the state took a stand on men and women using their own separate bathrooms. Would you have believed it?
With the total destruction of our societal norms and the basic Biblical worldview that used to inform it, we can add the rise of ISIS (due to a rapid and disastrous pullout in Iraq), the marginalization of Israel, and Obama's cozying up to to communist dictators (just to mention a few of the international messes he has created). I can understand why he might want to divert our attention elsewhere: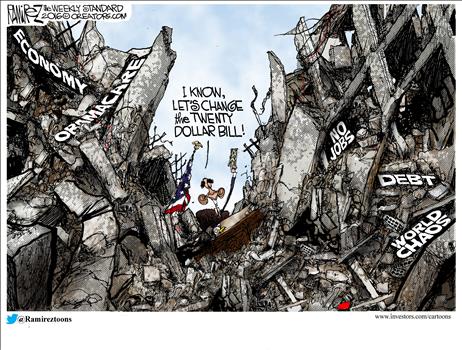 Nothing can be more important than changing the face on the twenty-dollar bill, right? For the record, I don't mind Andrew Jackson being removed; he's not on my list of favorite presidents. And while I might have other worthy suggestions for his replacement other than Harriet Tubman, I have no problem with a brave Republican woman who helped undermine the slave system being recognized instead.
How to summarize the Obama administration thus far?
I sincerely hope he's done with his "accomplishments."