Donald Trump was supposed to be at the top of the news cycle yesterday with what he called a major foreign policy speech, but Ted Cruz deflated that with the bold announcement that Carly Fiorina had agreed to be his vice president should he receive the nomination.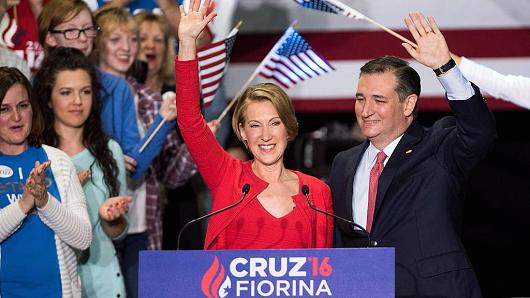 It was a bold move, one that no presidential candidate still in the hunt for the nomination had tried since Ronald Reagan did it in 1976. Reagan waited until the convention to do so; Cruz chose an appropriate time, the day after Trump's wins in the eastern primaries, designed to lessen the effect of those wins and regain the narrative in this race.
All the usual suspects are dismissing this move as some kind of cheap trick, but I think it is brilliant, both in the image it projects and in substance.
First, the image: by putting a woman on the ticket who has a business background, Cruz capitalizes on Trump's woman problem (they don't like him all that much) and has someone conversant with the business world who can take on Trump's supposed acumen in that area (if by acumen, you mean four bankruptcies and a fraud case going to trial over the fake Trump University).
I'm not one for identity politics. Having a woman on the ticket is not the big thing for me. But having a woman with principles is.
That's the second half—the substance. Fiorina impressed me throughout the campaign with her solid pro-life stance, her command of facts, and her ability to verbalize those facts intelligently. The combination of Ted Cruz and Carly Fiorina is, in my view, a ticket with a higher level of intellectual firepower and devotion to principle than we have seen in a long time.
Trump, of course, ridiculed the selection. That's his standard operating procedure for anything he feels threatens his dominance. He's busy touting his latest endorsements: Bobby Knight and Mike Tyson. Interesting endorsements. Knight, as longtime basketball coach at Indiana University, was infamous for his temper tantrums during games, making a name for himself by throwing chairs. He was his own Trumpertantrum before anyone heard of the term.
Knight also raised a furor once when he commented that if a woman knew she was going to be raped, she should just relax and enjoy it. Really. And Tyson? He was convicted of sexual assault back in 1991 and served jail time for it.
These are celebrity Trump endorsers; they kind of mirror the "best people" Trump always says he surrounds himself with—bullies and thugs.
So, back to Cruz and Fiorina. I applaud what Cruz has done here. He has taken the reins and shown courage as he continues his quest to keep the Republican party from committing suicide. May that quest be successful.