Do you know how tiring it is to write about Donald Trump all the time? I mean, how often can one repeat the same things with respect to his character, policies, and complete unfitness for the office of president?
So, in case you were wondering if I can think about anyone else on the political scene, here's a reminder that I can be an equal-opportunity critic.
Take John Kasich, for instance. He used to be a solid conservative, or at least I thought he was. During this campaign, he has come out as a candidate who seems to have no problem with same-sex marriage or forcing Christian businesses to participate in them. He also thinks North Carolina went too far in ensuring that men don't go into women's restrooms. All while using the name of Jesus as the reason for his views.
John Kasich is a no-go for me. Of course, he's a no-go in this election cycle anyway; he just doesn't realize it yet.
On the Democrat side—a side that can never earn my vote at any time due to its blatant anti-Christian policies—we have Bernie Sanders challenging Hillary Clinton, winning state after state while she continues to pull away because of so-called "super delegates" who have lined up for her.
Not that I want Sanders to get any traction, mind you. The fact that an outspoken socialist who sounds more like Karl Marx than anyone else can get such an adoring following is a chilling portent for our future as a nation.
Hillary, of course, is no better; she's just a disguised socialist who tries to appear to be something else. It's actually kind of funny, in one sense, to see Sanders and Clinton criticize each other when they are virtually identical in ideology. At least Sanders is honest about his beliefs and past actions; Hillary has to do her best to hide both: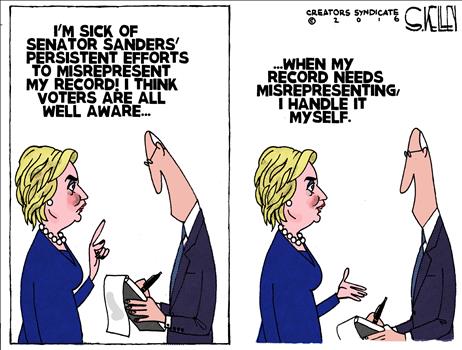 From the start of this campaign, she has felt as if it is "her turn," and that no one else should even be considered for the nomination:
We've also been told by the highest authority in the land that she will be a great president: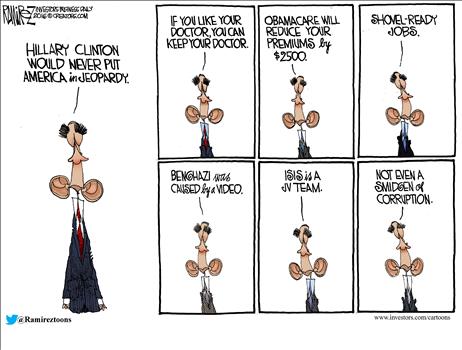 Well, that should seal the deal.
And then there's that small matter of a possible indictment for criminal activities . . . but we're not supposed to think about that.
Speaking of a sense of entitlement, I must return briefly to Donald Trump, who has become an expert at whining. Everyone is just so unfair to him. Why, all those delegates going over to Cruz in places like North Dakota, Colorado, and Wyoming is theft, total corruption. Never mind that Cruz played by the rules to win those delegates; Trump doesn't like rules.
Yes, Trump will have what the media will call a "good week" or two with primaries in the east, but Cruz's victories in the west (more are probably coming) and his ability to line up delegates to vote for him on a second ballot at the convention may keep Trump from the nomination after all.
Never in presidential campaign history have I seen two presumed frontrunners in worse shape.
Getting back to the prospect of a contested convention on the Republican side, I have no qualms about that. I have a sense of history, and I know what contested conventions can produce:
In fact, a contested convention this year is the only hope for keeping the Republican party on track because it's the only path right now that can deny Trump the nomination. And denying him the nomination is paramount for the health of the party and the nation.