Here's the ideal political world: each candidate, out of sincere love of country and its people, rises above pettiness, lays aside ego, bases a campaign on issues, treats opponents with respect, and does his/her best to be a statesman for the good of all and not merely a politician out for personal glory.
That's the ideal political world. This is what we see instead:
Also in an ideal political world, the media would be careful to present each candidate fairly, showing favoritism to none. Yet what do we find now?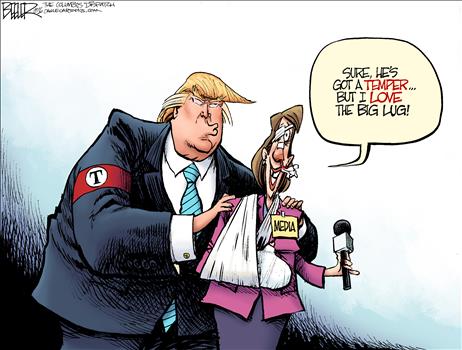 Rather than treating someone who is all bluster and insults and no substance as an embarrassment, that which is painfully obvious is ignored by many:
When asked what the role of government is, this candidate, with nary a nod toward constitutional authority, offers opinions unburdened by such constitutional qualms:
And untold numbers of supposed conservatives, who should know better, aid the cause, not realizing it will ultimately lead to their own destruction:
There are signs, though, of an awakening. What started as a ball-of-fire campaign that surprised virtually everyone, may end in a ball of fire itself if this candidate goes to the convention not having locked up the majority of delegates:
If he fails to win the nomination, the nation will have dodged a YUUUGE bullet, and perhaps the Republican party will come out of it wiser . . . perhaps . . .
May the Trump Titanic sink quickly. May we all regain our common sense just as quickly.