More attention has been given to the Republican race for the nomination than what's happening on the Democrat side. Yet I want to give the Democrats their due. If the Republicans can put forward such a woeful frontrunner, why not the Democrats as well? And they have a doozy of a frontrunner with quite a record:
For a while, Bernie Sanders gave Hillary a minor scare, but everyone knew the fix was in regardless. With all the so-called "super-delegates" in her corner, he never had a chance. Not that I want an old socialist to have a chance at the brass ring, but when it comes right down to it, there's little difference between Sanders and Hillary. She just takes more money from Wall Street (while saying she doesn't).
It looks now as if Sanders is an also-ran, but there's a new race Hillary's in, whether she's willing to admit it or not:
Yes, that pesky FBI investigation continues, along with the threat of an indictment. Other political cartoonists have picked up on the same theme as illustrated above:
Her campaign slogan, "Ready for Hillary," has a new twist: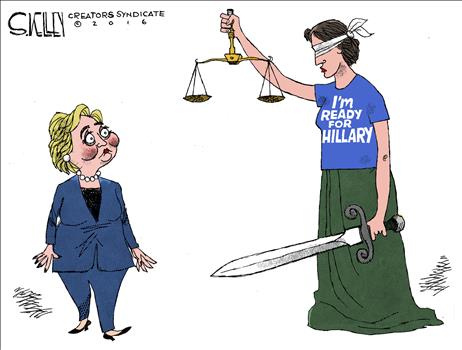 One can hope.
Yet, if an indictment is held off long enough, she may have an ace in the hole:
I know that the mainstream media likes to promote the idea that Richard Nixon was the epitome of political corruption, while ignoring what other presidents of the Democrat variety have done (anyone remember another Clinton?), but the allegations against Hillary, if proven legally, will dwarf anything Nixon did to protect members of his administration:
The last thing I want is for both parties to put forth the most corrupt, most immoral candidates possible. I'll conclude with the same cartoon I used yesterday to explain where I stand: