All the electioneering has distracted from the ongoing attack on America by the current temporary occupant of 1600 Pennsylvania Ave. How is Barack Obama continuing his assault on America? Let me count the ways.
First, he is salivating over the prospect of nominating another Supreme Court clone, one who will tip the balance against the Constitution for the foreseeable future: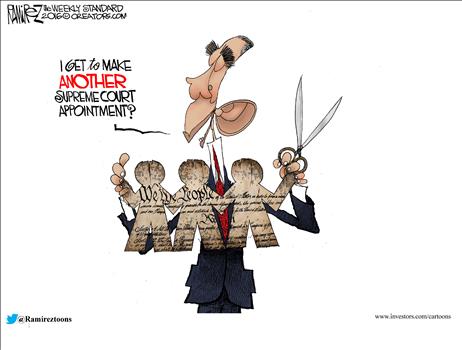 Fortunately for the country, at the moment, Republicans in the Senate are standing against any nominee coming from this most unconstitutional of all presidents. Will they remain steadfast? That's always the relevant question.
Then there's the dramedy known as Obamacare, in which premiums rise inordinately, exchanges go bust, and jobs are sacrificed to this sacred cow. Again, the silver lining is that it is so inefficient that the whole thing may break down:
And did you hear the news out of the misnamed Justice Department? Attorney General Loretta Lynch and her minions, under the auspices of our president, are looking into the possibility of prosecuting those of us they call "global warming deniers." Thought police, indeed?
On the terror front, Obama's desire to empty Gitmo of all radical jihadists proceeds apace. Never mind that those released will rejoin the ranks of those who seek to destroy America:
Then there's Iran. You know, that misunderstood nation that truly wishes to be our friend? Ignore the fact that Iran just violated the so-called agreement that Obama and Kerry hammered out by shooting off a missile. What makes that even more infuriating is that the missile had a message inscribed on it in Hebrew calling for Israel to be wiped out.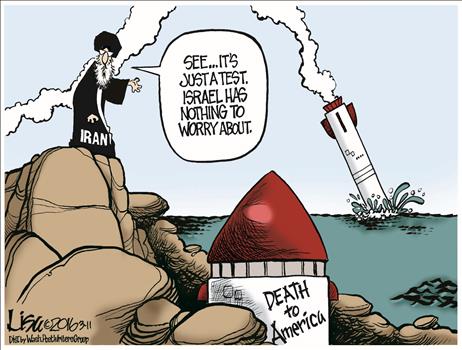 The administration is shocked—shocked—that Iran would do such a thing:
Obama fiddles while America burns. Meanwhile, American voters fiddle around with the possibility of replacing him with either Hillary or The Donald. Those options are not improvements.