Another critical election looms. With each new round of presidential elections, I tend to be astounded by the way people vote—usually without any solid foundational thinking. So I decided to publish how I approach this very serious responsibility.
Here, therefore, is my attempt at a personal manifesto.
I believe in Christian principled constitutional conservatism. Let me now explain what that means to me.
Christian
Jesus Christ is Lord of all aspects of life. My own life would have no meaning without His love, His forgiveness, and His direction for me. Politics and government fall under His Lordship. Consequently, whenever I think on those issues, I do so with a desire to ensure that His truth is the cornerstone for all governmental policies.
I want to see all of the vital questions before us through the lens of Biblical faith and solid doctrine. I want a Biblical approach to the way government is organized and I want, as much as possible, people serving in that government who are dedicated Christians. Where that is not the case, I at least want to support those who are not hostile to Christian faith, but have respect for liberty of conscience.
I seek to help put into practice a Christian worldview on all manner of legislation, whether that be right to life/abortion, religious liberty, marriage, taxes, education, welfare, immigration—well, that's the short list. I believe that no matter what the issue, there is a Biblical way to understand that issue.
Principled
I shouldn't have to make this a separate section. Christians ought to be, simply by the nature of their relationship to God and truth, naturally principled. However, I am dismayed by how often those who profess the name of Christ make disastrously unprincipled decisions. They allow emotions or self-interest to set aside what they claim to believe.
What principles mean the most to me?
The inherent value of human life—we are all created in the image of God.
The concept of self-government—God has so designed us to grow into maturity and make most decisions ourselves without the oversight of civil government. Not only individuals, but families, churches, voluntary organizations, etc., should be free of undue government influence.
The sanctity of private property—government has no mandate from God to be our overlord on economic matters; He instead, as part of our maturity, seeks to teach us how to be His stewards of all types of property: money, material goods, our minds, and the free will He has given us.
Voluntary association without the force of government coming down on us—people only unite when they are united, and that unity is internal, not provided by government coercion.
Christian character—God intended us to carry out our lives as reflections of Him; the world only works correctly when we do things His way.
Sowing and reaping—man is accountable for his actions, and he will receive back what he has sown: if obedience to God, blessings; if disobedience, dire consequences; we can't blame society and claim victimhood status in God's eyes because He will always hold us personally responsible for our choices, whether right or wrong.
Constitutional
I believe in the concept of the rule of law, meaning no man, regardless of high rank in society, is above the law. We all are to be judged by the same standard.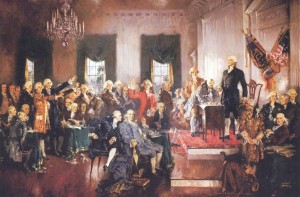 I believe in the system set up in this nation through the Constitution that gave us a solid basis for the rule of law.
I believe we need to hold firm to the original meaning of those words in our Constitution and not allow judges, legislators, or presidents to stray from the limited authority granted in that document.
Changes to the authority given to our federal government must go through the proper constitutional channel: the amendment process as outlined in the Constitution. A judge's gavel is not a magic wand.
Anyone running for the presidency or for Congress, and anyone nominated for a federal judgeship, at whatever level, all the way to the Supreme Court, must pass muster as constitutionalists. No one who denigrates the rule of law should ever be supported for public office.
Conservative
This is a relative term. In a totalitarian system, a conservative would be one who wants to conserve totalitarianism. But in our system, a true conservative is someone who seeks to conserve what the Founders established. Often that can happen only by acting to overturn or reverse what has been done to destroy the Founders' ideals. If a revolution has occurred, a real conservative might have to take on the nature of a counterrevolutionary in order to reestablish the foundations.
Conservatism does not merely conserve the status quo—if that status quo is a deviation from the constitutional system bequeathed to us.
Conservatism is not "reactionary"; it is a positive movement to secure the blessings of liberty to us and to future generations.
Application
As I survey the political field in this upcoming election cycle, and as I think through everything I wrote above, this is where I come out.
First, I can never support the Democrat party. Its very tenets are antithetical to my basic Christian beliefs; its principles are the opposite of mine; its radical anti-constitutionalism is in the process of destroying the rule of law; and rather than seeking to conserve the Founders' ideals, it instead foments a secular, Marxist revolution against those ideals.
On the Republican side, I find that the current frontrunner, Donald Trump, has no real grasp of Christian faith and only pays lip service to its tenets, as far as he may understand them—which is not very far. I also don't trust him to protect religious liberty.
Ted Cruz, on the other hand, has a Christian testimony that I believe stands the test. I don't see lip service only, but a commitment to the truths of the faith.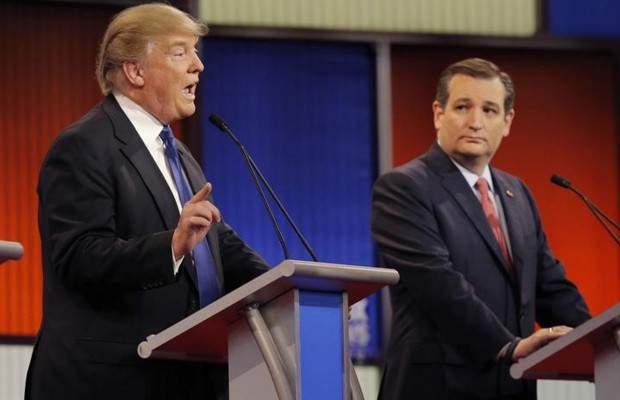 Trump, with respect to principles, falls far short. In fact, it seems to me the only principle he follows is whatever promotes himself. Does he really believe in the sanctity of life when he defends Planned Parenthood? Can we trust him on religious liberty? Will he use the government to strongarm people who disagree with him, or perhaps prosecute them for their disagreements? I have no confidence in him on any of those issues.
Cruz, though, is about as principled a politician as I can find at the presidential level. When I look at those principles that I listed above, I see him as solid on them all. Why? He has proven to be faithful to them in public office thus far.
Does Donald Trump even know we have a Constitution that set up a limited government? He never talks about it. It's obviously not a priority for him as he seeks the highest office in the land. He has even hinted—well, more than hinted—that maybe there should be some curtailment of political expression, that maybe there should be more lawsuits against the press.
Now, as much as I may criticize the American press—in print, on television, and on the Internet—any curtailment of political opinions sends a chill up my spine. Under a Trump administration, would this blog be considered a target if I should deign to criticize our fearless leader?
Ted Cruz is a staunch defender of the Constitution as intended by the Founders. How do I know? Again, look at his record. Restoring constitutional thinking and practice has been his life's work.
Donald Trump is no conservative, at least as defined in the American context. He has not been schooled in conservative thought and has a record of supporting key Democrats throughout his career. When you give a lot of money to Hillary Clinton, John Kerry, Barack Obama, Harry Reid, Nancy Pelosi, etc., etc., you are not only not conservative, but you are helping the enemies of constitutional conservatism propagate their radical revolution.
Ted Cruz, meanwhile, is the most consistent conservative left in the Republican presidential field. I am entirely comfortable with his understanding of how conservatism should play out in our constitutional system.
This, then, is how I approach thinking about politics and government. This determines how I vote.
I only hope these few thoughts will prove helpful to those who are trying to make sense of the decision before us.