How should we analyze the voting in Saturday's Republican caucuses and primaries? We could do it the conventional way and simply say it was a draw between Donald Trump and Ted Cruz since both won two states. That would also be the superficial way.
While I was in the Atlanta airport Saturday evening, I was taken captive by the monitor broadcasting CNN (since Atlanta is the home base for that network). I don't normally watch CNN because I prefer actual news, but sometimes it's good to hear what's being said on faux news stations, if only to know what silliness is being spread around.
One commentator rather breathlessly stated that Trump's apparent victory in the Kentucky caucuses was somehow a foothold in the South that marked some kind of important milestone for the candidate. Since I was in a public place, I refrained from laughing too loudly.
Going beyond the superficial, here's what I see. If you look at the margins of victory for both Cruz and Trump, you see quite a difference. Cruz took 48% in Kansas, more than doubling Trump's 23%. In Maine, Cruz had 45%, Trump 32%. Those victories were astounding, especially considering polls had shown Trump to be ahead in both states.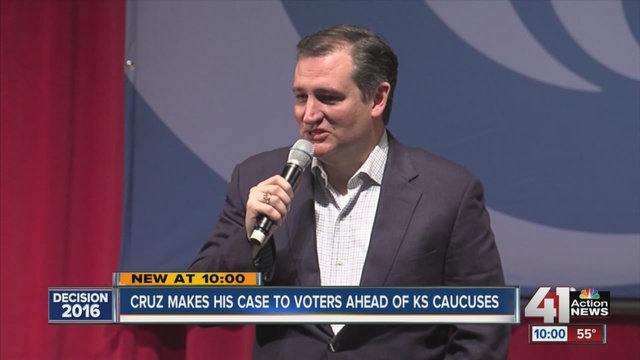 Trump's victories were somewhat less convincing. He took Kentucky 35-31% and Louisiana 41.4-37.8%, which is only a 3.6% spread. Again, polls had shown him well ahead, not indicating how close the races actually turned out. In fact, those who voted in Louisiana the day of the primary gave the edge to Cruz over Trump; the only reason he won was due to absentee ballots turned in weeks ago.
One wonders if Cruz would have won Louisiana if no one had been allowed to vote early. The last two debates were awful for Trump. The one last week, in particular, revealed him at his worst: making a sexual reference; changing his position on immigration (and having to "clarify" it later); and declaring that the military would obey him if he ordered it to kill women and children of terrorists (another one he had to walk back afterwards).
Those kinds of displays of waffling, budding dictatorship (interesting how they co-mingled), and vulgarity are making the more sensible erstwhile Trump supporters have second thoughts.
By the way, it's the delegate count that matters, not how many states one wins. Trump's delegate lead is 382-300 over Cruz. That's hardly a done deal for the nomination when 1237 are required to become the nominee.
There's another factor I hate to mention, but feel I must. Without Marco Rubio in the race, it is more than conceivable that Cruz would have won both Kentucky and Louisiana. Many are calling for Rubio to withdraw now, not only for the good of the Republican party but for the political salvation of the nation itself.
Rubio is determined to stay in, thinking a win in his home state of Florida will turn everything around. I'm not convinced. I don't believe there is a viable path to the nomination for him even with a Florida win. All his continued participation is doing (and the same can be said for John Kasich—perhaps even more) is making a Trump nomination more likely.
I would be more than pleased for a Cruz-Rubio ticket to emerge from this, but in order for that to happen, there must be a meeting of the minds and a willingness on Rubio's part to take the second spot. Or Cruz could promise him a cabinet position such as secretary of defense or secretary of state, especially since Rubio is so articulate on foreign policy.
Meanwhile, I believe Trump is becoming increasingly exposed as an easily ruffled bully who is, in his core, basically insecure. Most braggarts are. One evidence of his insecurity unveiled itself in an Orlando rally a couple of days ago when he asked his followers to raise their right hands in a pledge to stay loyal to him and vote.
When's the last time a candidate felt he had to make his supposed supporters swear publicly that they will come out and vote? That's not the action of a secure man.
I'm beginning to see the tide turn against Trump and toward Cruz. I'm rather perturbed by comments that imply the last debate was a total disaster for Republicans. Those who take that view are promoting a false moral equivalence: that all the candidates were a disaster. Not true. Only one was. Cruz, in fact, in much of the commentary I saw, even from those who are not public Cruz fans, was seen as above the fray and more strikingly presidential, seeking to explain policy rather than merely turning the tables on Trump.
I'm looking for Christian character and constitutional consistency. No one has a perfect record in that regard, but I'm convinced that Ted Cruz is the closest we have to that in this race.