Enough about Trump for now. How about that other race on the Democrat side? What do we have there? On the one hand, we have a failed secretary of state who is as corrupt as . . . well . . . her husband. She is being challenged by a 70+ avowed socialist who wants to make everything "free." What a duo.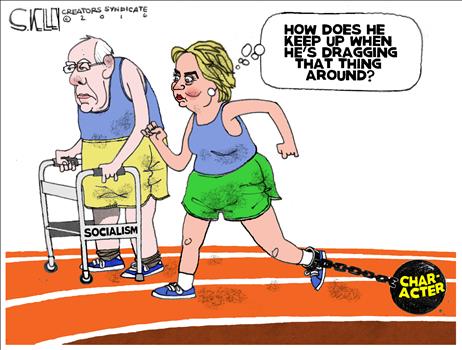 Let's be honest here. It's not really a contest between one socialist and a liberal; it's one avowed socialist, Bernie Sanders, and another socialist, Hillary Clinton, who tries to hide the fact. They are, in truth, comrades in arms philosophically:
So when it comes to philosophy, there's not much difference. On the practical side, the distinction is that Sanders is true blue in his philosophy whereas Clinton rakes in the money from Wall Street while bashing Wall Street simultaneously.
Polls show that Democrat voters (both alive and dead) are drifting toward Sanders, perhaps because they perceive him as being the "pure" candidate. The Iowa caucus result, if it proves anything, shows he is a threat to Clinton. In a state where she should have run away with a victory, it was a virtual tie. Sanders is far ahead in the New Hampshire polling.
Both claim to be the eventual winner, but what kind of a win might that be?
In Iowa, they battled to a tie in six caucus locations. How did the Democrat officials determine who won? They tossed a coin. In all six instances, Clinton won the coin toss. The odds of that, I'm told, are highly improbable. Did the Sanders people inspect those coins beforehand? What? A Clinton devotee might cheat? Perish the thought. She and her people are above reproach. If you don't think so, just ask them. Surely her history doesn't reveal any integrity issues, right?
As a nation, though, perhaps we're used to scandalous coin tosses leading to calamitous results:
If we end up with a Clinton or Sanders presidency (slight pause here while I meditate on that horrid thought), we can expect more of what we have experienced the past seven years.