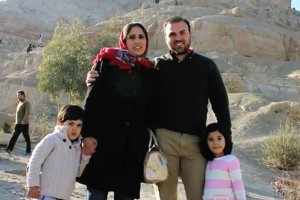 Make no mistake about this: I'm thrilled that Saeed Abedini, the pastor who has been held in horrific conditions in an Iranian prison since 2012, has been freed. Thousands have been praying for him during this long ordeal. What we have here is one of God's blessings in the midst of an ongoing policy that continues to endanger the world.
Abedini was held by the terrorist government of Iran for no apparent reason other than his Christian faith, as he had been in Iran merely to encourage fellow believers. Yes, I rejoice that he now is able to rejoin his family.
Other Americans, including a journalist, were part of what has euphemistically been called a prisoner exchange. They sent us five; we sent them seven. One big difference, though: none of the Americans released were guilty of any crimes, while the seven our government set free either had been convicted in a court of law with proper legal procedures or they were indicted and about to be held for trial. Their actions were all connected to support for the Islamic state and providing material aid in spite of sanctions.
So this was not an even trade: the American prisoners should have been released as part of any "deal" reached with Iran. Instead, we not only carried out this uneven swap, but we paid Iran $1.7 billion (for supposed remuneration for events before the Iranian revolution back in 1979) and we are now poised to release approximately $150 billion to that terrorist state to use as it sees fit.
This foolish policy will now lead to even more captives and demands for ransom, not only in Iran, but throughout the Islamic world.
I think one cartoonist has captured the Obama administration's policy position quite well: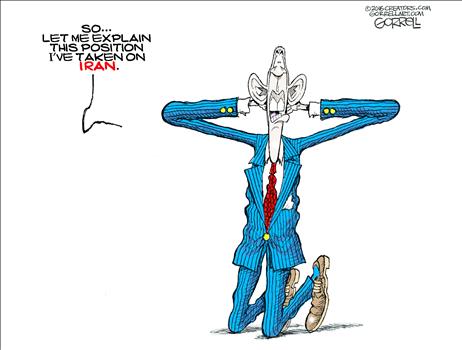 That "position," of course, is what American sailors had to assume when they were captured by Iran last week. The Iranians made sure to take photos and broadcast them to the world, illustrating the humiliation of America:
Yet because the sailors were released the next day, both Obama and Kerry celebrated this as a sign that we are on the right track in our relations with Iran, which never would have let those sailors go if it had to deal with a Republican administration that would have rejected the nuclear agreement.
I've often written of the fantasy world in which Obama resides. In international relations, nothing reveals it more than the idealistic approach he has taken with Iran. Remember, this is a nation that publicly states it wishes to destroy the state of Israel and that still allows chants of "Death to America" to fill its streets. Trusting a nation such as this to keep its promises is akin to trusting Hitler to keep his back in the 1930s. We all know how well that worked. Sadly, we may have to learn that lesson again: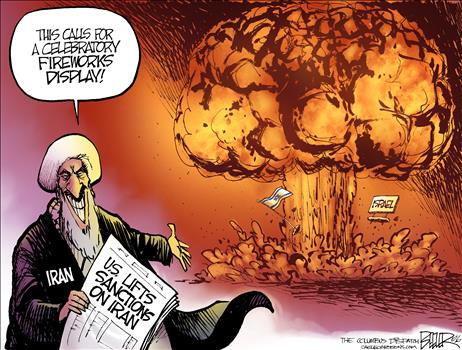 God, please have mercy on us, a foolish, foolish country that chooses leaders who reflect our foolishness.