The races for the presidential nomination are tightening in both parties. Bernie Sanders is doing surprisingly well against Hillary Clinton. I like what one commentator said about that: "To see her struggling to overcome the challenge from a glowering grouchy grandfather socialist like Bernie Sanders tells us a lot about how far left the Democratic base has drifted."
On the Republican side, Ted Cruz is now pushing Donald Trump in a way Trump didn't anticipate; he doesn't like being behind in a poll, as he now seems to be in Iowa:
Trump has spent a lot of time trying to convince Republican voters that everyone else is a "loser," and that he is the only one who can lift America out of its doldrums. The "loser" meme is getting kind of old:
So when it looks like he might be the loser, he comes up with a new strategy: claim that Cruz might be ineligible to run because he was born in Canada. Never mind that Cruz's mom was always an American citizen; ignore that the distinction always has been between someone born to an American citizen and someone who has to go through the naturalization process (which Cruz didn't have to do); suggest that this could be a huge problem if he becomes the nominee; call for him to have a court decide this.
We have a granddaughter who was born in New Zealand. Her mother—our daughter—is a natural-born American citizen; her father is a naturalized citizen; our granddaughter is considered a natural-born American citizen even though she has never spent one second of her life in the United States. Ted Cruz, except for that brief, transitory period when his father took a job in Canada, has lived in the U.S. all of his life.
There should be no controversy. Trump even acknowledged in the debate last week that he decided to raise the issue because Cruz was coming up in the polls. How crass can you get?
Cruz tore Trump's argument to shreds in that debate. It was a joy to watch.
Later, Trump got his revenge when Cruz critiqued what he called "New York values." Now, anyone with even half a brain knew what Cruz meant: that New York in general, and the City in particular, are havens for leftist ideology. When is the last time New York went for a Republican in a presidential race? (Hint: his initials are RR.)
Cruz was quite clear that was what he was talking about. So what did Trump do? He shifted the focus from that leftist ideology that has dominated the state and talked about the way New Yorkers dug out of the rubble of 9/11 and showed great courage in the process.
No one disputes that. It was a clever political ploy, but a ploy nonetheless. It had nothing to do with what Cruz was talking about; rather, it removed the entire context of Cruz's comments and concentrated on something that had no relation to what he was saying.
In retrospect, Cruz probably should have known Trump might do that. He also probably shouldn't have singled out New York but the elitist, leftist ideology itself. As a result, Trump had another "victory" in the debate, no matter how deceptive.
What was truly ironic is that he accused Cruz of being insulting, as if the Trump campaign hasn't revolved around a steady stream of insults for which he never is called to account.
Once you get past the anger Trump has been able to take advantage of, and listen to what he actually says, you discover there is very little "there" there. What we get instead is a healthy helping of hubris, grandiose promises, scanty knowledge of the issues, and a character—based on his previous political/policy views and personal life—that cannot be trusted: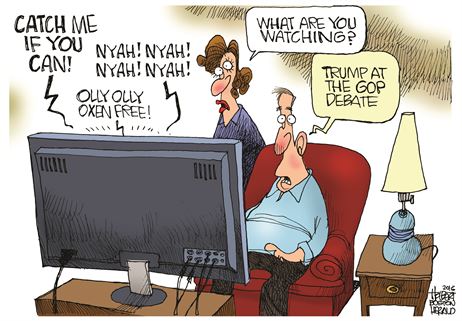 Called on by Democrats to apologize for his remarks, here's what Cruz said in response:
I apologize to the millions of New Yorkers who have been let down by liberal politicians in that state.

I apologize to the hard working men and women of the state of New York who have been denied jobs because Governor Cuomo won't allow fracking. Even though there had been many high paying jobs just south in Pennsylvania, New Yorkers are denied the ability to provide for their families.

I apologize to all the pro-life and pro-marriage and pro-second amendment New Yorkers who were told by Governor Cuomo that they have no place in New York because that's not who New Yorkers are.

I apologize to all the small businesses who have been driven out of New York city by crushing taxes and regulations.

I apologize to the millions of unborn children, many African-American and Hispanic, whose lives have been taken by politicians who relentlessly promote abortion on demand with no limitations.

I apologize to all of the African-American children who Mayor de Blasio tried to throw out of their charter schools that were providing a lifeline to the American Dream.

I apologize to the people of New York who are offended when the New York Daily News lambastes anyone who prays for victims of violence.

I apologize to the people of faith who are ridiculed and insulted by the New York media.

And I apologize to all the cops and the firefighters and 9/11 heroes who had no choice but to stand and turn their backs on Mayor de Blasio, because Mayor de Blasio over and over again stands with the looters and criminals rather than the brave men and women of the law.
It was an eloquent "apology," and one that I wish more Republicans had the courage to issue.