Hillary Clinton is in trouble, although she continues to laugh off her troubles as some kind of vast right-wing conspiracy. On the purely political front, she's behind Bernie Sanders in the polls in both Iowa and New Hampshire.
Bernie Sanders??? That has to be humiliating.
The reasons have to do with the lack of enthusiasm by Democrats for someone so flawed to be their candidate. Other polls show that Americans think she is a liar (Benghazi, e-mails, etc.) and her own base considers her a sellout to Wall Street.
So what did she promise to focus on recently? UFOs.
Actually, that might be a pressing issue for a certain segment of her base, seeing as how they have a tenuous relationship with reality.
Here's the reality, though: the FBI has now expanded its investigation into her potential criminal actions via the e-mails and inappropriate use of the Clinton Foundation as a funnel for personal enrichment while serving as secretary of state.
One cartoonist drew a parallel with the news that North Korea had developed an H-bomb.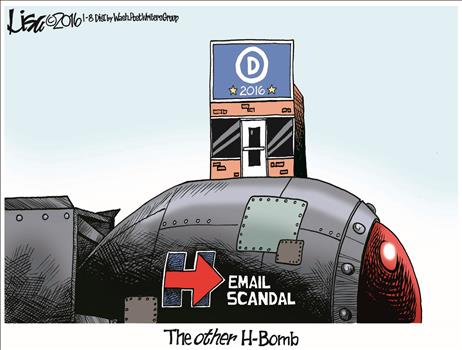 For the first time, there is serious talk about a possible criminal indictment. If the FBI says she should be indicted, will the Obama Justice Department follow through? Most dismiss the idea, but there isn't a whole lot of love between the Obama and Clinton devotees. Perhaps they would prefer Sanders as the most ideologically "sound," from their perspective.
Hillary's go-to guy, husband Bill, may be too flawed himself to be of much help now. His tawdry past is becoming an issue, as well it should be. Can he really be considered a plus for her this time around?
If she should somehow survive this and Republicans do the unthinkable, this is what we will face in the general election: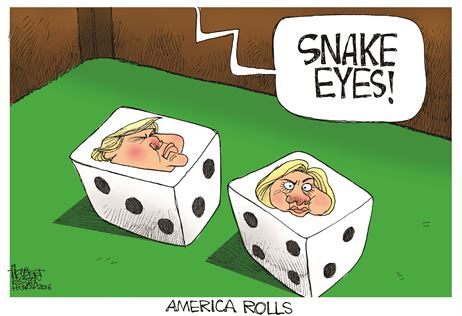 Not a pretty prospect.