Here's what we know thus far about the murderous rampage in San Bernardino yesterday: the murderers were a Muslim husband-wife team; it was well planned, not spur of the moment; their home was booby-trapped and was like an IED factory.
But we can't call this Islamic terrorism, you understand. No, that doesn't fit the Obama administration's narrative. We must maintain the double standard that both the administration and its media allies have constructed:
As with the Ft. Hood shooter and the massacre he carried out, we must instead call this "workplace violence." That's already the theme being pushed by Obama and his people. That, and the real cause of this violence: citizens owning guns. Yes, our commander in chief's first response to yesterday's terrorist attack was to call on Congress to rein in gun purchases. They're the problem, not the people committed to a genocidal religious ideology.
Our president's own radical ideology doesn't allow him to admit that Islamism is the actual problem. He's still wedded to the concept that America has caused all of this by its own braggadocio and interventions in the world. Consequently, this is why he has no genuine plans for combating the terrorism—in the deepest area of his heart, he somehow thinks they are right to be outraged and we deserve what we are getting.
It just so happens, before yesterday's attack, I had been compiling some excellent political cartoons showcasing the Obama approach to terrorism. Here are a few that pretty well summarize it:
After all, he knows who the real enemies are:
Yet has the media ever confronted him about his worldview and where it leads?
What was truly funny—well, I don't know that "funny" is the proper term—was to see him in Paris, where 129 people were recently killed by Islamic terrorists, proclaiming that those kinds of events only happen in America.
Huh?
And why was he in Paris? Why, he was dealing with the one issue that causes all this terrorism and that is going to destroy the entire world: climate change. Yes, Islamic terrorism is nothing compared to this danger:
How are we going to send those so-called terrorists a message? By attending a climate change conference, of course.
If our president had his way, the evening news would look like this:
One can only speculate how America would have handled the Pearl Harbor attack if FDR had subscribed to the Obama perspective. Well, one cartoonist did speculate: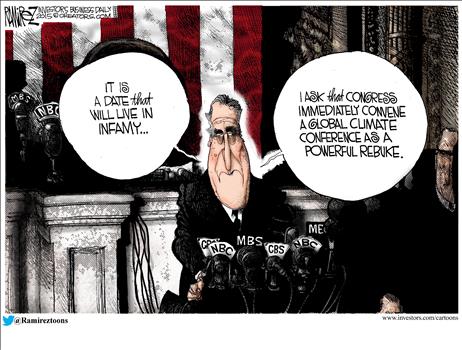 We're going to have to put up with this until January 2017—if we last that long.