I was a college students during the turbulent years of the Vietnam War. My campus, Purdue University, probably wasn't too different than others, caught in the wave of dissent over the war and in revolt against Biblical morality. Yet no violence ever erupted there, no one was kept from studying, professors were not publicly abused verbally, and no administrators resigned after massive protests over alleged grievances.
All of that is happening now, though, and college campuses are once again becoming battlegrounds that are, unfortunately, rather void of the intellectual firepower that they should be engaged in. Instead, what we see is an attempt to substitute slogans and anger for genuine solutions.
The latest eruption stems from perceived racial insults, but evidence for those insults appears to be thin, about as thin as the skin of those claiming to be harmed. And if you disagree with their viewpoint? Well, you should just shut up.
By the way, we now know that the black student who started the disturbances at the University of Missouri and who went on a hunger strike to protest "white privilege" is the son of a multimillionaire. White privilege? There are a lot of white people in America who would jump to take advantage of the privileges this young man has had. He has also stated that his university education is what radicalized him.
And we still keep sending our children to these universities?
I'm blessed to be teaching at a Christian university where none of this has boiled over. I know for a fact that I would be one of those whose speech would be suppressed if I ever tried to teach at a typical public university. What's ironic is that professors who have fomented this attitude—who euphemistically refer to themselves as "liberal"—are now seeing their words and actions come back on them in ways they never imagined. Many are probably still blind as to how they have created what we now see:
All the rhetoric about "safe spaces" has another unintended consequence—a "safe space" from thinking:
A segment of our population, both in so-called higher education and outside of it, is so perpetually aggrieved by everything that one cartoonist believes he has come up with the perfect editorial cartoon, one designed never to offend anyone:
Actually, that will be judged rather offensive, too, I believe, because it pokes fun at those who are so easily offended. Such insensitivity!
The height of the crybaby mentality surfaced this past weekend when some of the Black Lives Matter protesters were outraged over news coverage of the Paris attacks. You see, that distracted people from the REAL attacks on the feelings of college students.
Here's a word of caution for those whose feelings are so hurt: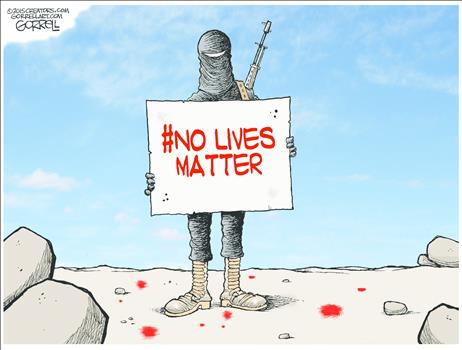 Time to get a grip on reality and the real problems we all have to face together.