Everyone who has a blog is probably commenting today on the Paris attacks of last Friday. Although I haven't superimposed the French flag on my Facebook image (I'm not one for fads of that kind), that doesn't mean I'm not deeply disturbed over what has occurred. This was another prime example of Islamic terrorism, even if our president stubbornly continues to avoid using that terminology.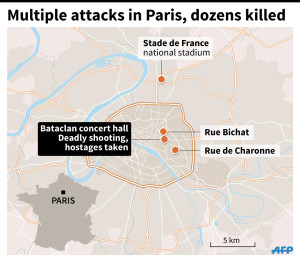 The attacks in Paris took place at a number of locations at approximately the same time. They were well orchestrated. ISIS has claimed credit for them. At least one of the attackers was part of the Syrian refugee flood, a tide of humanity that ISIS takes advantage of by inserting its adherents, knowing that they will not be vetted properly before infiltrating the welcoming nation's population.
This is nothing new, of course. Western nations have been the greatest abettors of their own destruction. We are so afraid of appearing insensitive, racist, or intolerant, that we opt for allowing avowed enemies into our midst.
I'm reminded of Mark Steyn's comments in his book America Alone:
After September 11, the first reaction of just about every prominent Western leader was to visit a mosque: President Bush did, so did the Prince of Wales, the prime minister of the United Kingdom, the prime minister of Canada and many more. And, when the get-me-to-the-mosque-on-time fever died away, you couldn't help feeling that this would strike almost any previous society as, well, bizarre.

Pearl Harbor's been attacked? Quick, order some sushi and get me into a matinee of Madam Butterfly! Seeking to reassure the co-religionists of those who attack you that you do not regard them all as the enemy is a worthy aim but a curious first priority. And, given that more than a few of the imams in those mosque photo-ops turned out to be at best equivocal on the matter of Islamic terrorism and at worst somewhat enthusiastic supporters of it, it involved way too much self-deception on our part.
That self-deception seems to exist more at the top levels of our government than among our citizens in general. Polls show that most Americans expect Paris-type attacks to be coming soon to a city near us. A government's first task is to protect its own citizens; are we sure our current government really believes in that?
For Christians, there is kind of a divided mind on these matters at times. We want to help genuine refugees, particularly since we know that some of them are Christian brothers and sisters trying to escape persecution and annihilation. We don't want them sent back into that maelstrom.
Yet we can help those refugees through some very effective ministries, and we should do so, even as my church is doing now. But that doesn't mean we ignore the very real threat that this refugee explosion contains. It's not Christian to blindly accept everyone, thereby endangering our fellow countrymen.
This unfolding tragedy has no easy answers, but governmentally, it could at least start with an acknowledgement of the real problem. With our present government, that will not happen.