Journalists can do a lot of good if they take their calling seriously. I'm certainly in favor of trained journalists who understand the need for fairness in reporting. But what do we get when most journalists are schooled in a university atmosphere of progressivism and either cynicism or outright hostility toward traditional Christian beliefs and/or cultural and political conservatism?
We get what has happened to Ben Carson recently—an all-out attempt to destroy an individual who doesn't fit the progressive mold. In Carson's case, from the mainstream media's point of view, he is such an anomaly that he must be taken down.
A black Christian conservative, in their world, cannot exist, and if such a person does exist, he must not be allowed to succeed. Nothing must stand in the way of the progressive agenda, so while journalists mouth the platitudes of their profession—objectivity, etc.—the reality is something else:
And if there's nothing bad to report, they will create something themselves:
Nothing that they have "uncovered" about Carson's past has any credibility, yet they somehow find a way to ignore another candidate with the greatest history of lies and corruption imaginable:
Did anyone in the mainstream media follow up on the whoppers Hillary has told about Benghazi, for instance—even before a congressional committee? No, they were too busy concentrating on really important matters:
Carson, to his credit, fought back, boldly contrasting the treatment he has received with the kid gloves used against Hillary and Obama. I love this picture that has been finding its way around social media:
It's not just Carson, of course, and the attacks don't come solely from "professional" journalists. Carly Fiorina has had to counter the snide comments from the ladies women on "The View" who decided to attack her personally. She handled them quite well: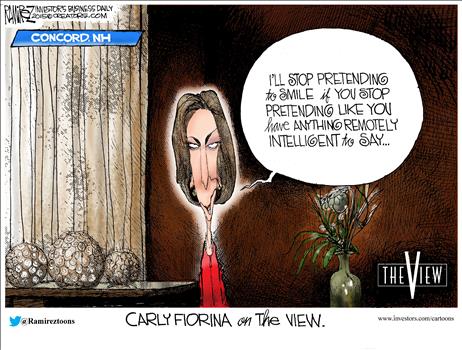 I applaud the steadfastness demonstrated by both Carson and Fiorina in the face of this onslaught. For the sake of truth, those who foster the politics of personal destruction must not be allowed to go unanswered.