I did watch the GOP debate last week before embarking on my trip to Texas for the C. S. Lewis Foundation retreat. Normally, you might expect I would comment on it before now, but I hope these belated few comments will suffice.
As many have noted, this was a landmark debate in the sense that it brought to the surface once and for all the biased nature of the questioners. CNBC's moderators (hardly the correct title this time) were about as hostile as one could find. The experience caused the GOP to cancel NBC's sponsorship of one of the later debates.
Even though I have drawn attention often to the lopsided politics of the mainstream media, I was stunned by the manner in which these questions were asked and the remarkable double standard when compared to the kinds of questions Hillary Clinton has received:
The moderators couldn't have been more obvious about their own political views. As Ted Cruz noted, he didn't expect any of them would be voting in a Republican primary. They probably just should have made it clear from the start: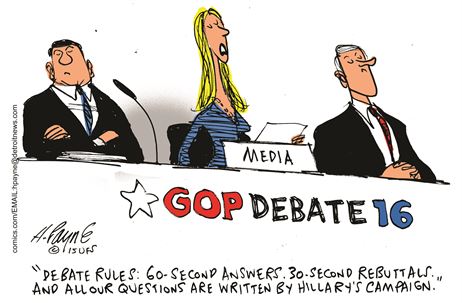 I wasn't at the debate in person, of course, but if I had been, I wouldn't have been surprised if the parking lot outside might have offered some clues as well:
What this ham-handed approach actually accomplished was to unite all the GOP contenders; it was them vs. the media throughout the debate. If the goal of CNBC was to humiliate the presidential hopefuls, it boomeranged on them:
So the loser in the debate is clear. Who won? Everyone has their own opinions, of course. I think the following candidates helped their cause the most: Rubio, Cruz, and Christie. A high honorable mention goes to Fiorina, who always comes across as articulate and firm in her convictions. Carson held his own, as did most of the others.
Some of those instant online polls taken after such events are about as unscientific as they come. One, for instance, said Trump won. Well, he didn't do anything to stand out and, as more than one commentator said later, this was the first debate in which he was not the center of attention.
Maybe the next debate, moderated by Fox Business Network, will be more worthy of our time.