Hillary Clinton's testimony before the Benghazi Committee has been declared a "win" for her by the mainstream media. They report, almost breathlessly, how calm and collected she was. At the same time, they paint a picture of Republicans on the committee as out of control and frustrated by the answers offered by the smartest woman in the world.
Well, that's the narrative from the usual suspects. In fact, that narrative wasn't anywhere close to the truth.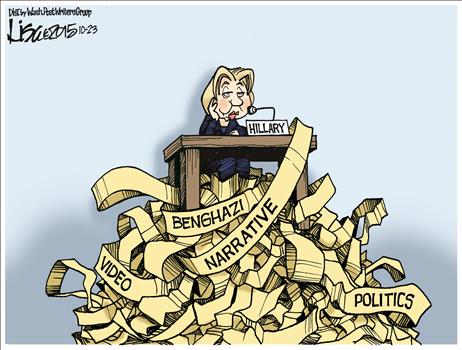 What we got was a performance without substance. Sadly, performance is what counts in the media. Never mind the truth—or lack thereof. It would have been better, I think, if the scene had been set up differently:
"No new discoveries." "No smoking gun." Really? How about the e-mail Hillary wrote to her daughter and the other one to the Egyptian government official in which she admitted the attack had nothing to do with some obscure video? Is that not newsworthy? Is that not some kind of gun emanating massive amounts of smoke?
Of course not, we're assured. Nothing to see here. The real story is that she made it through all those grueling hours. Why, she is the real victim, not those who died in the terrorist attack. After all, Ambassador Stevens knew what he was getting into, right? Again, never mind all those appeals he sent for more security that she apparently never saw. Why, she is the real story here.
The outright dishonesty and lack of integrity shown by both Hillary Clinton and her media supporters is becoming legendary. It's almost as heinous as the love affair between the media and Barack Obama.
You see, the true villains in this drama are those who are seeking answers and demanding that documents be turned over so that the truth can come to light. Such tactics are pure evil, we're told.
Fortunately, there are some with integrity who will keep on asking. They deserve our thanks and appreciation as they continue to contend with the stonewalling and the false media narrative.