Joe Biden says he is out of the 2016 race, then proceeds to give a 25-minute campaign speech. Why? Commentator Charles Krauthammer thinks he is positioning himself should lightning strike Hillary Clinton in the form of a federal indictment.
Any indictment that may come will be the result of an FBI investigation into her e-mail scandal, but there are other reasons to fervently oppose a Hillary nomination, with Benghazi being a key one.
Today the House special committee investigating Benghazi will have her testify. Four Americans died in that terrorist attack that she tried to blame on a hardly seen video. When she appears before the committee, perhaps they should also have empty chairs next to her as a remembrance for the four who died.
There's actually a fifth victim here as well:
Another cartoonist picked up on that theme rather pointedly also:
For me, it doesn't matter which of the possible candidates Democrats will offer to the public; I could never vote for any of them. Why don't they just get it over and change the name of the party officially to the Socialist Party? Or how about the Kill Innocent Children and Sell Their Body Parts Party? The Let's Destroy Marriage Party? You get the drift. There's no way I can ever support what Democrats now stand for. How any Christian can give support for them is beyond my comprehension.
Then there's the Republican side where Donald Trump continues to lead in the polls. Some, like this cartoonist, view him this way:
His candidacy certainly has been long on bravado, a cult of personality, and the ability to hit hot-button issues that appeal to angry voters. But he's far from lacking substance; what bothers me the most is the substance I see.
Trump, in my view, has only latched onto a type of conservatism because it's what will get him the nomination. He, by his own admission, has always aligned himself more with Democrats than Republicans, and now mouths conservative platitudes that I don't really think he believes.
Ronald Reagan underwent a serious rethinking of his New Deal liberalism over a number of years, coming out of the period of rethinking as a confirmed conservative in principle. Trump is, I fear, nothing more than an opportunist jumping on a bandwagon of reaction against the Obama years.
That's not enough. It's also dangerous to put one's trust in an opportunist. It will come back to bite.
His latest foray into the Loony Left's talking points is the insinuation that 9/11 was somehow George Bush's fault. Whatever critique we, and I, may have of Bush's actions, anyone who even hints at his complicity in letting 9/11 happen is wandering into the fever swamps.
There were so many daily threats Bush was given that there was no way to single out ahead of time what actually happened on 9/11.
Further, Trump then asserted that if he had been president, 9/11 wouldn't have happened, indicating that his immigration approach would have prevented it. Does he not know that 15 of the 19 terrorists that day came into the country legally? And does he really want us to believe that he would have rounded them up and deported them in the short 8-month span he would have been in office prior to 9/11?
Hitching a ride on the Trump Train will spell disaster for the GOP.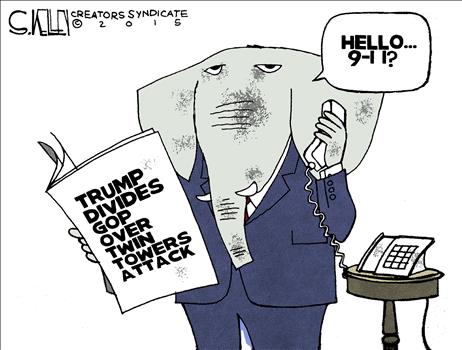 Can you imagine a worse scenario than what we may be facing as an election choice in 2016?
As noted above, I'll never vote for Hillary or any other Democrat. But please, Republicans, don't force me to vote for a third party.