I understand there's a Democrat presidential debate this week. Forgive me if I'm not really interested in watching it. I have more important things to do than listen to five socialists argue about how to destroy the country even more.
The presumed frontrunner for the Democrats, Hillary Clinton, has a lot on the line. A bad performance—because let's be serious, that's all these debates are—may throw her erstwhile supporters into an even greater panic than what they're currently experiencing. I'm sure, though, that her friends at CNN will do all they can to make her seem presidential and inevitable.
There's also one person missing at this debate, one who is standing by just in case, watching Hillary disintegrate:
Of course, she also has her loving husband to turn to for comfort and encouragement: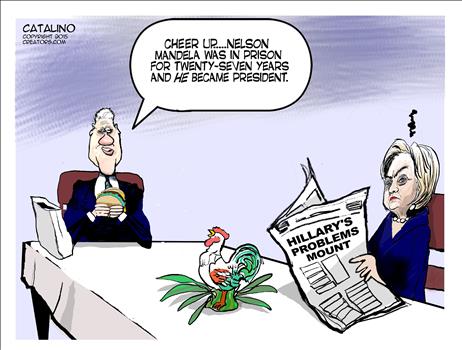 Let's be real: the eventual Democrat nominee will be either Hillary or Joe Biden. The first may be indicted for offenses that send others to prison; the second is a national embarrassment with a long history of verbal gaffes and a mean streak toward Republicans that knows no bounds.
Either choice, in normal times, ought to lead to an overwhelming Republican victory. Republicans, however, have to step back from the Trump cliff first if they are to have any hope of winning the general election.
Will Republicans regain their moral backbone or will they enhance their sad reputation as the "stupid party"? The Iowa caucuses are still almost four months away; there's time to reverse course and make a wise decision.