So Kim Davis, the Kentucky county clerk who doesn't want to issue marriage licenses to same-sex couples is now in jail, put there by a federal judge who previously forced high school students into diversity training to try to convince them that opposing homosexuality is wrong.
This is all part and parcel of how our world has turned upside down.
Davis, a Christian who simply doesn't want her name on the licenses as the government official authorizing same-sex marriages, is allowed no accommodation at this point. The radical agenda cannot brook any opposition, so it's off to jail she goes.
This is the most egregious example of selective outrage and hypocritical use of penalty that I've witnessed in quite some time.
I do understand the argument that the rule of law must be obeyed. In fact, I'm one of the staunchest supporters of the rule of law that you can find. However, which law has been broken here? Has she gone against Kentucky law? Not at all. The voters in Kentucky, in a referendum, approved the traditional Christian concept of marriage by a majority of 75%.
You say she's violating the Supreme Court's decision in Obergefell? Yes, that is true, but is that really a federal law based on the Constitution?
I'll come back to that.
First, though, let's look at the way the Davis case is such a stunning example of selective outrage and punishment.
When Obama took office, he directed his attorney general, Eric Holder, to defy federal law when they colluded on not defending the Defense of Marriage Act, duly passed by both houses of Congress and signed into law by Bill Clinton in 1996.
What happened to Obama and Holder when they refused to uphold a federal law? Well, you know. Nothing. If justice had been carried out at that point, impeachment proceedings against the president would have begun immediately.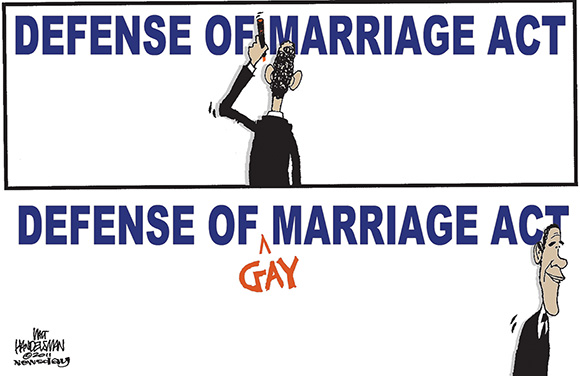 Do you realize that the harvesting of fetal body parts is prohibited by federal law? What's being done about Planned Parenthood's defiant actions in ignoring that law? President Obama has come out in favor of that organization's continuance in its horrific practice. The Democrats in Congress have rushed to Planned Parenthood's side in an attempt to silence the protests against its policy of infanticide [let's call it what it really is].
Then there are those sanctuary cities, in which mayors, governors, and state attorneys general, openly flout federal laws. Has anyone called them to account for their lawlessness?
And we shouldn't forget Hillary Clinton's use of a private e-mail server that was against the rules for federal employees and that put national security at risk. The height of hypocrisy in that situation was her stern warning to everyone else in the State Department not to use private e-mails for public business. Does anyone think she is going to be held accountable for her lawlessness?
Yet Kim Davis is in jail for maintaining that she is supposed to carry out the laws of the state in which she lives.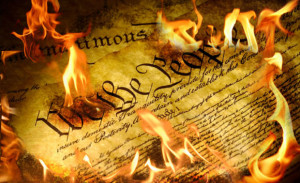 The real lawlessness has been at the top of the federal government, both in the executive and judicial branches. The Obergefell decision, which said that the Constitution somehow provides for same-sex marriage, is simple judicial fiat. As Chief Justice Roberts wrote in his dissent, this decision really had nothing at all to do with the Constitution. What we have in Obergefell is five justices imposing their personal beliefs on the entire nation without any constitutional authority to do so.
Justice Scalia's dissent in that same case drew attention to what he called "the Court's threat to American democracy." He went on to say, "Today's decree says that my Ruler, and the Ruler of 320 million Americans is a majority of the nine justices on the Supreme Court."
Anyone who has ever read the Constitution with an open mind has to legitimately wonder where a Supreme Court justice could find a right to same-sex marriage within that document. It's probably in the same place as the "right" to kill innocent unborn children.
Mike Huckabee has been the strongest of the Republican presidential candidates to speak out on the absurdity of thinking the Supreme Court is the final word on everything. As he so poignantly put it, the Supreme Court is not the Supreme Being.
Does anyone remember the Dred Scott decision, which effectively ruled out any rights at all for a black person in America, whether slave or free? The Republican party at that time publicly repudiated that decision and stood firmly against it.
How about Plessy v. Ferguson, the 1896 case that declared separate-but-equal facilities was acceptable public policy? That pronouncement was later overturned by the Brown decision in 1954.
In both cases, the Supreme Court itself was the source of lawlessness, blatantly disregarding the Constitution. It has repeated that lawlessness with Obergefell, and action against that lawless decision is just as valid as action taken to overturn Dred Scott and Plessy.
It would be nice to think that all conservatives would unite in tackling this breach of the Constitution, but, sadly, that is far from the reality. I'm grieved over how many public conservatives either seem to support the same-sex marriage fantasy or pass the buck by simply saying this is now the law of the land, so leave it alone—it's a done deal.
Some of the Republican presidential contenders have adopted the "done deal" approach. Those who have surrendered on this crucial issue have lost my support.
So it comes down to this: it's going to have to be the faithful Christians who still take God's Word seriously who will make the stand. This is a battle that falls to those who are the remnant. We are reminded that Christ called us to be salt and light. We must now fulfill that calling.