Yes, it's time for another Hillary Clinton post. The State Department released more of her e-mails last night—late last night. One gets the impression the State Department is working on her behalf, hoping people won't notice. When asked yesterday by Ed Henry of Fox News whether the department believes Clinton followed all the rules for using e-mails, the spokesperson declined to answer.
One hopes, though, the FBI will fulfill its role and conduct a thorough investigation.
By the way, last night's dump identified more classified e-mails that never should have found their way to a private server. Is Clinton sorry she used that server? Well, in one way, perhaps:
The main problem is that both of the Clintons operate on the assumption that they live above the rules imposed on the rest of the population—that somehow they are privileged and don't have to answer for their actions: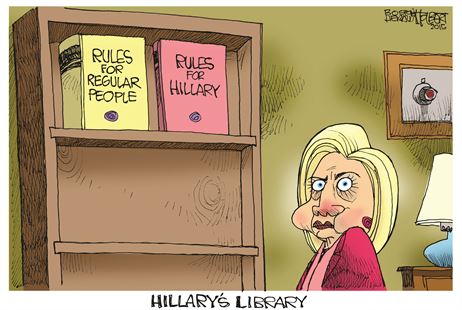 Anyone else would have been indicted by now. Even the most devoted Democrats don't really want their nominee to be under federal indictment during a campaign. That's why there is this undercurrent about Joe Biden possibly entering the race.
Biden doesn't really stir any deep emotions, but there's one part of the population that would love to see the gaffe-ridden vice president pursuing the nomination: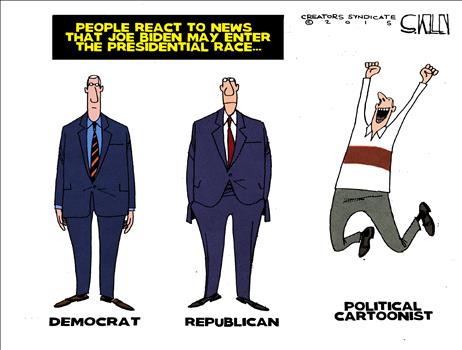 I would like to see his entry into the race as well. He's so tied to the Obama administration and all its policies—even more than Hillary—that there would be a greater chance of an epic campaign fail.
Bill O'Reilly and Charles Krauthammer were discussing this race on O'Reilly's program last night. They both felt strongly that the 2016 election should be a slam dunk for Republicans. However, they also agreed that the intrusion of Donald Trump into the campaign has thrown that into doubt.
The focus has shifted from all of Obama's massive failures and policies that have weakened the country, and instead we are concentrating on a Trump campaign that never holds Democrats responsible, but reacts only to a vague "Washington is corrupt" theme.
No matter how spineless Republican leaders have been, the greater problem is the radical nature of Obama's attempt to transform America. That's where the focus needs to be.