When Congress reconvenes after its summer recess, the Iran deal will be front and center. We now know some details about a secret side-deal agreed to by Iran and the IEAE, which is supposed to be the international inspector of nuclear development. We now know that the IEAE is allowing Iran to conduct the inspections itself.
Yes, you read that correctly.
How does this not defy all reason and logic? How can anyone believe it is wisdom to let the nation developing nuclear weapons be its own inspector? It will report to the IEAE what it "discovers." Right.
Yet President Obama is relentless in his push to get congressional approval for this deal. Hey, he got Iran talking, didn't he? Isn't that a major accomplishment in itself?
He was counting on his party to back him, but some are balking, like New York Senator Chuck Schumer.
Only one other Democrat senator has come out against the agreement thus far, but others are wavering, while Republicans are forming a fairly solid block against it. It may be that Schumer has come out simply because there are enough Democrats who will go along with it that he has been given permission to oppose it publicly for his own political gain. His character in the past shows that could be the case. We'll see.
Obama's people also have hinted that even if Congress disapproves and is able to override his veto, he will depend on the UN's approval and proceed as if Congress is non-existent. Well, that's been his pattern already, so it's not too hard to believe.
It is obvious that our president is far more amenable to Iranian leaders who have pledged to wipe Israel off the map and who are in the process of figuring out how to hit America with nuclear missiles than he is to anyone who goes against him politically:
Combine this fantasy Iranian deal with his fantasy about Cuba, with whom he has now normalized relations while Cuban dissidents continue to languish in its prisons, and you have his worldview clearly on display: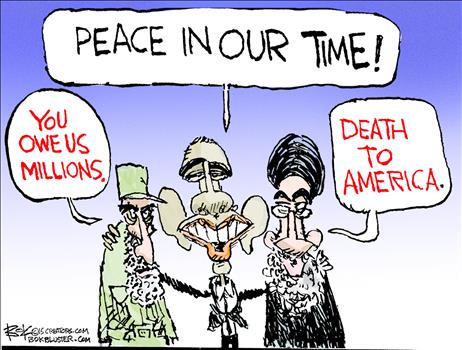 In the sixth year of Barack I, emperor of America, we are in grave danger. We need a radical regime change:
Is there anyone besides me who sees a problem with that solution?