Hillary Clinton is probably delighted with all the attention Donald Trump is receiving, allowing her troubled campaign to fly under most people's radar. But not mine.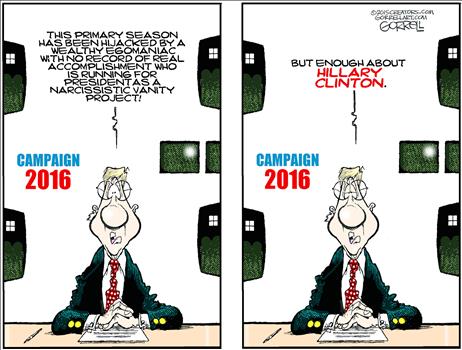 If you have been out of the Hillary loop for a while now, let me update you. The investigation into her e-mail server continues apace, and despite the protestations, it is a potential criminal investigation. Not only did she conduct official government business on a personal server, but it is now obvious she lied about the e-mails having nothing to do with national security.
Further, she wants everyone to just trust her that she turned over everything relevant to her time in office, and we are to ignore that she deleted more than 30,000 of those e-mails, ostensibly because they were personal.
Yes, she is getting more attention, but she's trying very hard to spin that attention into something positive.
Polls are revealing the consequences of her actions, even among Democrats:
As in 2008, her party support is losing steam:
The Joe Biden camp is giving off some rather huge hints lately that he is considering a run after all. Of course, there is a segment of the political world that would love that:
So, Democrats, here are your choices: a probable criminal (whether or not the evidence can be found now after all the "scrubbing"—this is a tried and true Clinton practice), an old Vermont socialist, or someone who will provide excellent fodder for the political cartoonists with silly comments and weird behavior.
All things being equal, this should be a golden opportunity for Republicans—if they don't blow it again.