The Iran deal is now in Congress, open for debate. The Obama administration gave precedence to the United Nations, taking the deal there first for its approval—which it got, of course. They say it's because other nations were involved as well, but how does that trump (excuse my use of that word) the Constitution's specific requirement that all such deals should be subject to a 2/3 Senate approval?
This deal is just so good, we're told, that we simply cannot pass it up.
Remind me never to have John Kerry negotiate anything on my behalf:
What about all those demands and/or requirements we were told Iran would have to abide by? Now we find out there were a couple of "secret" deals on the side that weren't supposed to be made public, like allowing Iran to provide the specimens to be tested to determine if they are keeping their word on nuclear development. Isn't that somewhat like letting Hitler demonstrate how nicely he was treating the Jews?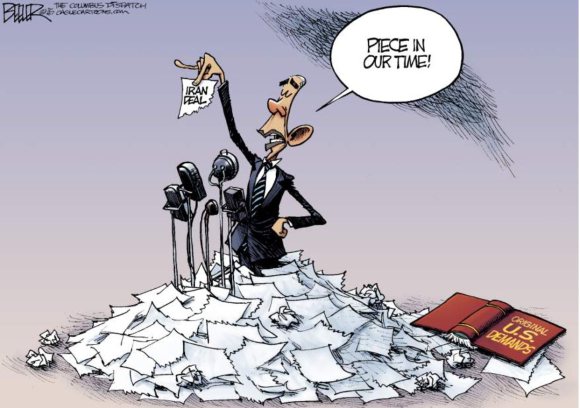 What's even more revealing is that since this deal was reached, the rhetoric of the Iran regime hasn't changed one bit, which a befuddled Kerry finds somewhat disturbing.
But don't worry. If the Congress rejects this deal, our president will be right there to uphold it.
He's never met an Islamic terrorist he can identify:
Iran is a terrorist regime. We have just concluded an agreement with that regime that will allow it to develop nuclear weapons. Congress has a responsibility to shoot it down, first with a vote to negate it, then with an override of a presidential veto. Will there be enough backbone to accomplish this? The jury is still out.