As a nation, are we so jaded and cynical that one's personal character doesn't matter anymore? When someone runs for the highest office in the land, shouldn't we have greater expectations of that person than, say, someone who picks up our trash weekly?
Might we want to weigh character along with one's accomplishments? Who am I talking about, you ask?
Isn't this the same person who only got her political stripes because she married a man who ended up as president (that's another whole story and primer on lack of character)? Yet now she is able to snap her fingers and make money in a way few can, all the while hypocritically savaging those who make money the old-fashioned way—by earning it.
This is the person who ensures that she doesn't have to answer too many questions from the press—many of whom don't want to find the truth anyway—and uses unique means for keeping them at bay:
On those select occasions when she deigns to allow a conversation, she makes sure to find a reporter who is acquiescent in anything she says, one who lets her spin whatever lies she chooses without any follow-up questions. That happened recently with a CNN "interview." It was a joke.
There are so many scandals, false stories, and outright lies emanating from this person that one might be excused from wondering how anyone can support her:
Her behavior has been compared to . . . . well, to this:
Might I suggest a modification to her official campaign logo?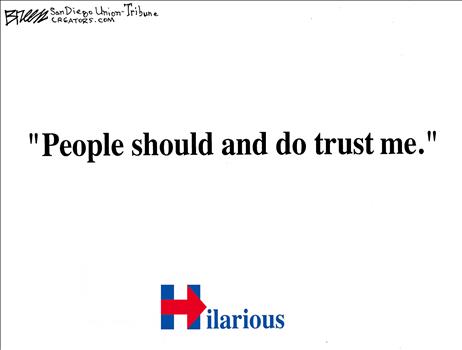 Is the electorate really this foolish? We'll see.