President Obama made some astounding statements in a speech yesterday, claiming that he has rescued the economy and that the United States is now the most respected nation in the world because of his foreign policy.
Well, that kind of covers the whole ground, doesn't it?
It's also ludicrous.
Yes, the stock market is booming, but keen analysts worry it's another one of those artificial bubbles. When they break, things go sour quickly. And the GDP this last quarter actually contracted, meaning negative growth. Well, that had to be the weather that caused it. The Soviet Union used that excuse for seventy years.
Yes, the unemployment rate is now at its lowest point in the Obama years, but that doesn't take into account the unprecedented number of people who have dropped out of the workforce (which naturally lowers the percentage of unemployed) because they can't find the jobs they want. No worry, the government has taken measures to ensure they will be taken care of.
Obamacare is an ongoing disaster, hopefully to be put to rest by the Supreme Court very soon.
Then there's that little matter of doubling the national debt in a mere six years, an achievement no other president has ever been able to accomplish. The fact that we have any economic growth at all is due to entrepreneurs marching forward in spite of this administration's attempts to drown us in red ink.
We're no longer involved in wars? Fantasyland again. One can pull out troops and declare a war is over, but that doesn't stop the other side from continuing the war. Iraq is ready to crumble; Afghanistan is heading the same direction; the entire Middle East is ablaze while our president does virtually nothing.
What is he bequeathing to his successor?
By all rational standards of measure—which is not how Obama measures things—we are in far worse shape on his watch than we have ever been, both in domestic policy and foreign affairs. His stature in the world is not what it was when he began, when the whole world seemed awash in his "hope and change" rhetoric.
Another indicator that things are not as he believes is the rush on the Republican side to replace him. Republicans know most of the country now sees through his spin.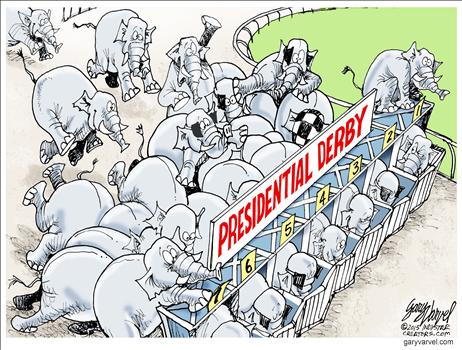 The choice to be made by Republicans for their presidential nominee is one of the most crucial in my lifetime. May wisdom prevail.