I understand debate over whether military involvement in Iraq was advisable. Honest people can disagree over that. But making George Bush into some kind of bloodthirsty dictator is way over the line. He was responding to a threat that was growing in the region, and he took out a dictator who was hoping to rule the entire Middle East. Further, he acted on what was the best intelligence at the time with respect to chemical weapons, and he certainly didn't lie so that American soldiers would die.
American soldiers did die, and the hope was that their deaths would be worth something in the long run, like a stable Iraq. Now, all of that has been overturned as ISIS has taken over most of those cities that Americans died to free. This is a travesty, especially when the Obama administration and the military brass say the taking of Ramadi is "no big deal."
President Obama's promise that he would "degrade" ISIS rings hollow. They are growing in strength and influence, making him and his minions appear to be no better than "Baghdad Bob," the Saddam Hussein mouthpiece who said there were no American troops anywhere while the Hussein regime was, in fact, on the verge of being toppled. It's not ISIS that's being degraded; it's something else.
No matter what credible criticism one can level at President Bush over his Iraq policy, he did achieve a fledgling Iraqi nation that was at least stable at the time. Even President Obama acknowledged this as he prematurely—and against the advice of his military commanders—pulled out the remaining American forces. The new "stability" is not something to be proud of: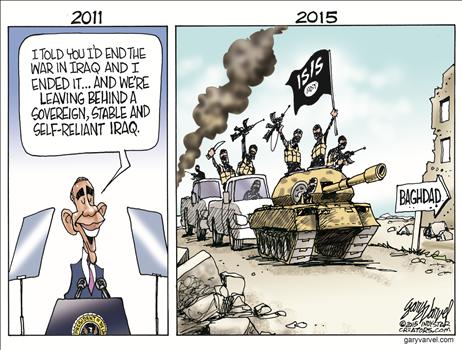 So as Iraq descends into chaos and ISIS is poised to control the entire country, Obama wants us to believe he is not responsible for this turn of events:
Frankly, he really doesn't care much what happens over there. He's never considered a war on terror to be all that legitimate. Instead, he thinks global climate change is where we need to focus.
As I've said before, his ideological blinders have created a new territory called Obamaworld, a fantasyland of his own making.