In a Memorial Day speech yesterday, President Obama said we should rejoice because for the first time in a long time American troops are not fighting in an overseas war. He even mentioned Afghanistan, where 10,000 Americans are still on active duty. The news report I was watching also commented that 3500 American military personnel continue to work with the Iraqi army.
So how is that a testimony to complete withdrawal from overseas conflicts? He did what he does so often—make a blatant statement of supposed fact that is at odds with the facts.
Even this late—more than six years into his presidency—he still acts like all the problems in the Middle East are due to George W. Bush. You can criticize Bush's policies, and I think there is ground for criticism, but a direct comparison of the two presidents' actions show rather stark differences:
If you think Bush was mistaken in toppling Saddam Hussein, and that the aftermath of that was particularly messy, one thing to remember is that when he left office, he also bequeathed to Obama an Iraq on the verge of stability. Obama's decision to pull out all troops, despite the advice of the military, has led to the chaos that is ISIS.
One wonders what, in fact, his overall strategy really is. Look the other way and pretend that everything is fine?
Since he is so adept at comparing himself with his predecessor, here's another apt comparison:
At least George Bush recognized when his strategy needed to be altered, based on the situation. Obama just waltzes along as if all is great. Three of the four major cities in Iraq now under the control of ISIS? No problem. Our strategy is working, he assures us. The latest disaster is merely a tactical setback, not a failure of strategy. How long will he keep saying that?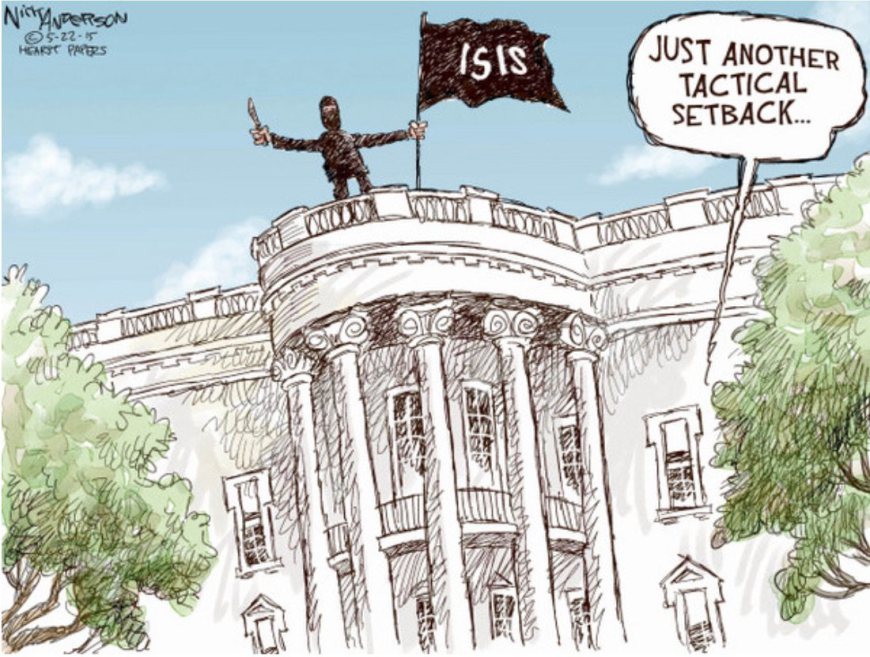 Far-fetched? I'm not so sure.